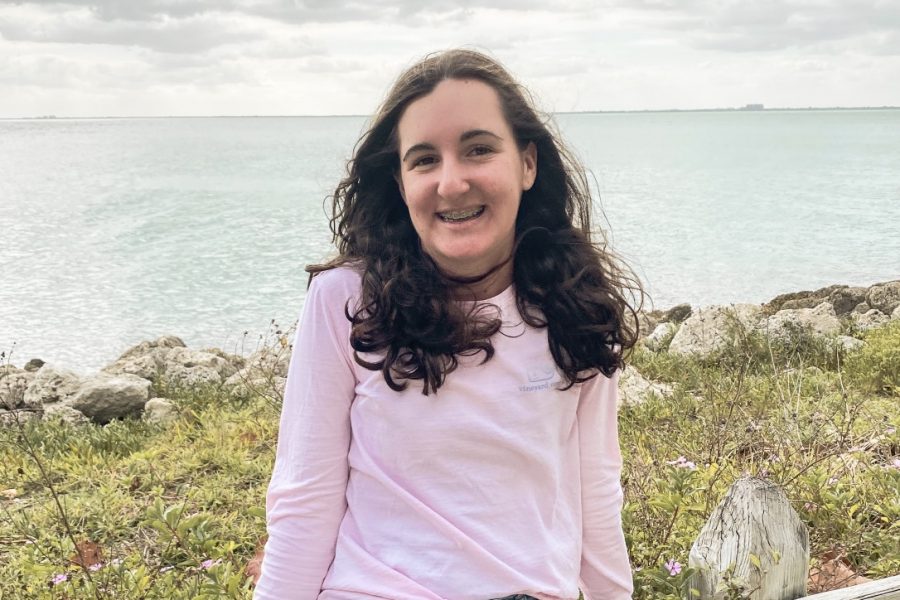 Kathleen Lewis is the Editor-in-Chief of The Raider Voice
.
She
started writing for the newspaper as a freshman, and since then has loved writing articles and being on staff. At school, she also plays on the varsity soccer and tennis teams and is a member of the IB program.
Please visit

Kathleen's website

 to see her digital portfolio and a record of her progress as a student journalist!
Kathleen Lewis, Editor-in-Chief
Oct 15, 2020

Music Department in Harmony Despite COVID Chaos

(Story)

Sep 21, 2020

A Precarious Balance of Safety and Tradition as Fall Athletics Resume

(Story)

Sep 08, 2020

Day in the Life: An On-Campus vs. Online Student

(Story)

Sep 02, 2020

Decision to Open Campus on Sept. 10 Met with Mixed Feelings

(Story/Media)

Aug 24, 2020

Combating Racism Through the Power of Discussion

(Story)

Aug 21, 2020

What's New at The Raider Voice?

(Story/Media)

May 07, 2020

Thank You, Seniors

(Story)

May 05, 2020

Teams Compete Virtually in 6th Annual Business Plan Showcase

(Story)

Apr 30, 2020

Ghost Town Miami Episode 3: Miami Beach

(Story)

Apr 16, 2020

Finding Your Sweet Fix While Social Distancing

(Media)

Apr 15, 2020

State Champion Soccer Coach Chris Bart-Williams Moves On

(Story)

Apr 13, 2020

Ghost Town Miami Episode 2: Miracle Mile

(Story)

Apr 02, 2020

Ghost Town Miami Episode 1: Coconut Grove

(Story)

Mar 31, 2020

Community Voices: Students Share How Coronavirus Has Affected Their Lives

(Story)

Mar 22, 2020

Fight Boredom With These Safe Activities to Try While Social Distancing

(Story/Media)

Mar 12, 2020

Planning for the Future Ahead at Business Club's Career Fair

(Story)

Mar 09, 2020

Debate Students Place 2nd and 3rd Speakers in State Competition

(Story)

Mar 03, 2020

Fans React to Varsity Soccer State Championship

(Story)

Feb 28, 2020

10 Questions with an IB Student

(Media)

Feb 12, 2020

A New Look at the Wednesday Schedule

(Story)

Feb 09, 2020

Girls varsity soccer claims district championship in 3-0 win against Mast Academy

(Story)

Jan 21, 2020

How Student Voices Turned the Life Skills Club From a Conversation to a Reality

(Story)

Dec 12, 2019

Journalism and Broadcasting Students Recognized at NSPA Fall Convention in Washington D.C.

(Story)

Dec 06, 2019

Mystery-Comedy Blend Knives Out Lives Up to Its High Ratings

(Story)

Dec 02, 2019

A Weekend of (Fun)draising at RaiderFest

(Story)

Nov 15, 2019

Boys and Girls Soccer Teams Visit IMG Academy for a Weekend of Training and Team Bonding

(Story/Media)

Nov 15, 2019

Video: Sophomores Work Together to Build Bikes for Charity at their Annual Team-Building Event

(Story/Media)

Nov 05, 2019

Inside the World of Competitive Debate

(Story)

Oct 21, 2019

Video: Spirit Week Begins with a Splash of Color

(Story)

Oct 21, 2019

Video: Kids teach Kids at Breakthrough Miami

(Story)

Oct 11, 2019

Swim teams defeat Ransom rivals in outstanding season finale

(Story)

Oct 11, 2019

Video: Global politics students share their passions at the Pass the Mic event

(Story)

Oct 01, 2019

The surprises don't end at new Miami outpost of Brooklyn-based Hometown Barbecue

(Story)

Sep 27, 2019

Special Report: An Inside Look at Concussion Prevention

(Story)

Sep 24, 2019

Video: Students Fight For Climate Justice at Miami Beach City Hall

(Story/Media)

Sep 05, 2019

Hurricane Dorian has devastated many of Miami's neighboring islands. Here's what you can do to help

(Story)

Aug 30, 2019

Students and teachers gather in the Blue Dungeon for annual Club Rush

(Story)

Aug 26, 2019

Video: Students share mixed opinions about the new Wednesday schedule

(Story)

Aug 26, 2019

Fueling the athletic experience with new athletic director Ira Childress

(Story)

May 17, 2019

Video: Business students practice marketing and sales at Monday's Business Bake-off

(Story/Media)

May 06, 2019

Student Government Election Results Announced for upcoming 2019-20 school year

(Story)

May 06, 2019

Girls tennis defeats Jacksonville Bolles to become Class 2A state champions

(Story)

Feb 12, 2019

Boys Varsity Soccer concludes season in District Semifinals

(Story)

Feb 08, 2019

Students explore job opportunities at the Business Club's Career Fair

(Story)

Jan 31, 2019

The Art Walk: A Whirl of Color

(Story)

Jan 17, 2019

Fairchild Garden brought to life by new Night Garden event

(Story)

Dec 10, 2018

America Needs Journalists: How T-Shirts Are Unifying High School Journalists

(Story)

Oct 05, 2018

Freshmen Get a Jump Start on the Year

(Story)

Sep 18, 2018

"Mamma Mia! Here We Go Again" is all about the feeling

(Story)

Aug 23, 2018

Taylor Swift Reputation Tour

(Story)