A Precarious Balance of Safety and Tradition as Fall Athletics Resume
Kicking off the new school year with hybrid learning and postponed sports seasons, it is impossible to feel as if everything is normal. 
As the first games of the season are tantalizingly close, teams and coaches must grapple with how to manage this unusual start to the fall, and how to keep student-athletes safe while still engaging in interscholastic competition. 
Football players, for example, must attend school online to prevent the spread of the virus through contact with other players. There are also new precautions in place, such as mandatory temperature checks and health questions before players attend all practices and games. As most athletes have been playing sports all summer, these new protocols are now routine. Many high schools have also implemented health measures initially started by professional leagues, such as the NFL and MLB.
"I found it a pretty easy decision to go online to be able to play football because it's that important to me," said junior Will Bettridge, kicker on the varsity football team. Bettridge also said he plans to continue pursuing football beyond high school, so he believes that resuming the season is much worth the sacrifice of an in-person education.
While players will still be able to practice and play games together, one of the defining elements of the football season for all students is the spirit and support that comes with it. "White-outs" on game days. Cheering alongside the band at a touchdown. Homecoming traditions. Although it's uncertain whether the fan experience will be the same, Athletic Director Ira Childress says he will do everything he can to ensure a fun and safe season for everyone, regardless of the changes.
"I'm excited for the student-athletes to go back to competing and playing the sports that they love, but we have to keep the crowds down because of COVID-19," said Childress. "The attendance will be down, but we are working on some things virtually to help with that. Safety is number one."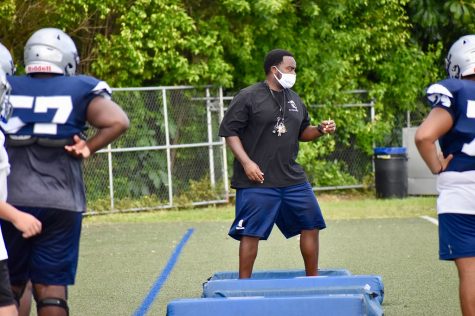 It's clear that the pandemic's shadow will extend far beyond fall sports. Most winter sports teams, and even spring season teams like baseball and lacrosse, train all year long and must take similar health and safety measures during each practice. Girls soccer, for example, recently began weekly preseason training. According to Coach Chichi Nwadike, the majority of concerns revolve around whether opponents sharing the field will be as strict about enforcing safety measures as his own team.
"We have our own protocols and we seem to be following them pretty vehemently. The worry comes in when we face opponents and we have games," said Nwadike. "I understand everybody wants to get back to normal, but these aren't normal times."
These novel concerns require significant efforts from coaches, but also call for new kinds of leadership and responsibility among players themselves. The combination of safety measures like social distancing, wearing masks, and following new protocols are as much a personal obligation as they are an essential element to protecting the health and safety of teams and the student population as a whole. Student-athletes must find ways to balance both being safe and competing.
"I think there's definitely precautions we can take, and I'm praying that at least by December or January we can get a little more normal," said senior Katelyn Hartnett, captain of the girls varsity soccer team. Hartnett and her team held their usual preseason training on Wednesday, but made changes such as temperature and symptom checks and not sharing equipment like water coolers or jerseys. "Obviously [the pandemic] is not going to go away in a heartbeat, but I'm just hoping that at least we can have some fun and get something out of the season even if it's a little different."
When seasons were cancelled last spring and many athletes were forced to spend months without seeing their teammates, the realization surfaced of how essential sports are and the unforgettable moments they bring to many students' high school experience. This season, the prevailing attitude is all about working hard and enjoying the season, despite the unusual circumstances.
"You can definitely say the uncertainty is there, but if you focus too much on the uncertainty then you're not really in the present enjoying the moments," Nwadike said.
The fall sports season will be like no other. It will be unpredictable. It will be challenging. Yet, after having sports suddenly taken away for an extended time in spring and fall, athletes and coaches are relishing the opportunity to get back on the field.