Gulliver Team Wins First Place in Ocean Science Manatee Bowl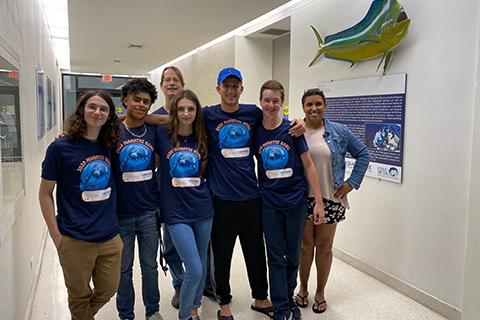 What is the world's largest reef complex? Where does the relative motion of a transform fault occur? How is the habitat of blue whales, tunas, and swordfishes described?
This is the kind of knowledge that the Ocean Science team demonstrated on Mar. 27 as they won first place in this year's Manatee Bowl, the regional competition before moving to the country-wide level of the National Ocean Science Bowl. After reaching the top eight place in last year's contest, the team of four students (seniors Jacob Stein, Everest Maya-Tudor, Alexander Cunill, and junior Colin Lewis) and oceanography teacher Mark Tohulka were excited to clinch the championship by outperforming Maritime Studies MAGNET school Mast Academy in answering trivia-style questions on topics from oceanography to geography to marine policy and more.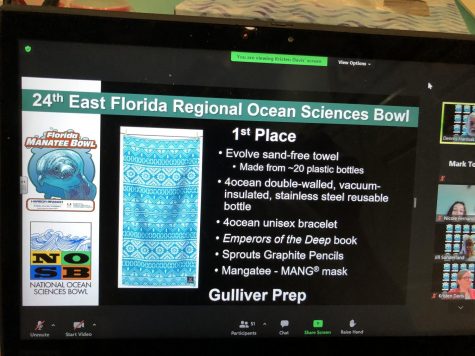 "The team had a solid performance last year, but this year getting to nationals for the first time is a big accomplishment," said Tohulka. "I'm really proud of them for working independently and being enthusiastic even though we weren't able to travel to any location."
Last year, the Manatee Bowl took place at the University of Miami's Rosenstiel School of Marine and Atmospheric Science. However, this year the competition was held in an entirely virtual format on Zoom. Nevertheless, the style and competitiveness was unchanged, and students spent weeks studying, preparing, and answering practice questions before the big day. According to Tohulka and team member Jacob Stein, participation in events like the Manatee Bowl provides opportunities for students to pursue oceanography as both a fun hobby or a potential career path.
"I've been interested in [oceanography] for as long as I can remember. Maybe it has something to do with growing up near the water, but I've always loved it," said Stein. "For a while I was considering pursuing a career in marine biology, but in recent years I've decided to go for a degree in physics and math. I still hope to take as many marine science classes as I can in college if possible, and I definitely intend to volunteer at NOSB in future competitions."
Next, the team plans on attending the nationals tournament, competing against approximately 20 other teams from across the country. However, no matter what happens next, they continue to be proud of their accomplishments at the Manatee Bowl and enjoy the opportunity to learn more about ocean science.