State Champion Soccer Coach Chris Bart-Williams Moves On
After two years and a state championship, boys varsity soccer coach Chris Bart-Williams recently announced his decision to leave the program. A retired player for the English Premier League, Bart-Williams coached teams like the U.S. Women's National Team and the Boston Breakers. Coaching the Raiders will be among the achievements of his past as Bart-Williams moves onto something new.
Bart-Williams notified members of the soccer program of his resignation in an email dated Apr. 3, where he explained his reasons for leaving and expressed his gratitude for the program's success during his time coaching. He also recognized the valuable connections he made with the community.
Bart-Williams was not only the head coach of the boys soccer program, but also started the Raider Soccer Club last year. The club brought committed school soccer players to invest in a new program.
"It was a really hard decision for me to walk away after such a wonderful experience," said Bart-Williams in an interview Apr. 15.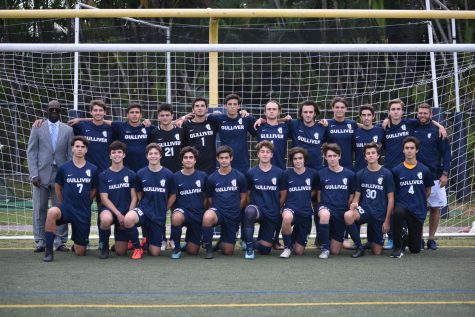 Bart-Williams' departure may have been a surprise, considering that the boys varsity soccer team won their eighth state title on Feb. 27 against Mariner High School, an exhilarating and gratifying end to their rollercoaster of a season. Nevertheless, Bart-Williams said that his decision was well received among his players and the soccer program.
"I can't please everybody, but the support I've had [for my decision] has been phenomenal," he said. "And it goes beyond just soccer. It's the character that has been demonstrated by the team, which I think is a wonderful compliment to give a coach."
There is no news yet from the Athletic Department on who will replace Bart-Williams as head coach of the boys varsity soccer team. According to Athletic Director Ira Childress, the Athletic Department ensures that the new coach will be one that can keep the success and spirit of the program alive.
"We will begin a comprehensive search for the next leader of our boys soccer program," said Childress. "We are committed to maintaining a championship-level program within the framework of educational athletics."
Bart-Williams will continue working with his soccer recruiting company, CBW Soccer Elite, and also plans to build his own private soccer club in Charlotte, North Carolina, as well as one in Miami.
Bart-Williams hopes that the work ethic and positive mindset he built into the team remains with them in the seasons to come. He also left the players with an ambitious new goal: to win at least three of the next five state championships. 
"I want every soccer player to make sure that they truly give their all, every time they step on the field and with every coach," said Bart-Williams. "I want them to adapt and never be afraid of reaching their goals."