Olympic Medalist Michele Richardson '86 Speaks to PE Classes
Not many people may know that there is an Olympic medalist on campus: Gulliver alumna and guidance counselor Michele Richardson de Ahlers, who competed as a swimmer in the 1984 Olympics in Los Angeles, CA. On Mar. 25 and 26, Richardson de Ahlers met with Physical Education classes as a guest speaker to tell her story, aiming to spread a message about remaining positive and resilient no matter what challenges lay ahead in order to accomplish a dream. Richardson de Ahlers was also the youngest athlete during that Olympics, competing at the age of 15 as a sophomore in high school.
The event was coordinated by coaches Yaritza Roman and Earl Sims, who wanted to feature an inspirational figure for the students in honor of Women's History Month. After hearing Richardson de Alhers' speech and even watching a recording of her race, students wrote their own reflections on what they had learned from her story. Roman and Sims felt moved and inspired by the speech as well.
"When Coach Roman brought the idea to us, this was my first time hearing [Richardson de Alhers'] story," said Sims. "It was amazing to hear a success story and what was incorporated, like the daily schedule, the work ethic, some of the hurdles that she had to overcome, and especially the intensity of the finish."
Born in Nicaragua, Richardson de Ahlers was introduced to swimming at a young age. She asked her father one day what she could do to make the Olympics. For three and a half years after that moment, she began training and turned reaching the Olympics into her dream, regardless of how much challenge and discipline it may have required of her.
"I trained with UM athletes at five o'clock in the morning every day until the Olympic trials," Richardson de Alhers told students. "There were bad days, but every day when I was negative I would turn the page. Self doubt is your worst enemy."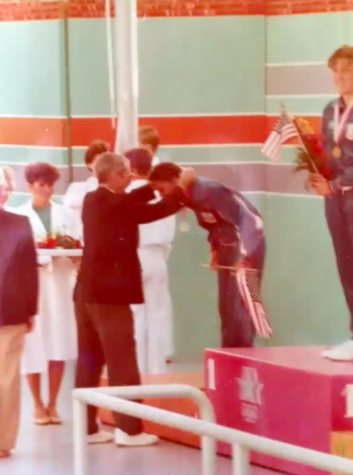 This mindset proved true on the day of Richardson de Ahlers's race at the Olympic trials in Indianapolis: the final 800 meters that would determine whether she would make it to Los Angeles or have to wait through four more years of training. During the final 300 meters, Richardson de Ahlers's climbed from fourth place to first, making it to the Olympics. "At that moment, it was either believing in myself or letting go of my dream," she said. "And it was so worth it."
In Los Angeles, Richardson de Ahlers came in second place, representing the United States and receiving a Silver Medal. She encouraged her audience to always believe in themselves to accomplish their goals, emphasizing that mindset and worth ethic are everything.
"It's extremely inspiring what [Richardson de Ahlers] was able to accomplish at that age," said Roman. "I not only want our PE students, but the entire student body, to know that you can achieve anything you set your mind to. Throughout the challenges we have encountered this year, we can and have been able stay strong, prevail, and thrive."
Click here to watch Richardson de Ahlers' guest speech to Physical Education classes on Mar. 25 and 26.