IB Global Politics Raises Youth Voices with #PassTheMic Project
The above video showcases six presentations from this year's Pass the Mic project, made by juniors taking IB HL Global Politics.
"When it comes to world issues, I don't know if we are really listening to those who are being affected by it and those who have a lot to say about it," says Dr. Michael Kokozos, IB Global Politics teacher. "Society has changed at a very rapid pace, and high schoolers are actually quite active in thinking about politics and shaping political debate."
In 2017, Kokozos and Dr. Maru Gonzalez wrote an article published in Huffpost: "When It Comes to Social Justice, Adults Need to #PassTheMic." It discussed their involvement in the nonprofit LEDA, and the importance of adults giving youth voices the opportunity to engage in activism and work towards positive change. Since the article was published, #PassTheMicYouth grew as an educational movement. In 2019, Gonzalez, partnering with Kokozos, brought the concept to NC State University, which launched a student-run blog and podcast inspired by the hashtag. The movement has also recently made its way to the Prep.
As a new class tradition, Kokozos implemented his ideas about the importance of empowering youth voices into his own classroom with a recurring project under the same name. He asked his students to each think of a political issue they feel passionate about that "sparks energy, creates innovative solutions, and implements collaborative approaches to protect, manage, and improve our planet." Then, each student was tasked to prepare a creative way to inform the audience, express their feelings about the issue, and call for change: project formats included spoken-word poetry, speeches and written essays, symbolic art pieces, original videos, and more. Topics ranged from racism and stereotypes, to climate change and the environment, to violence against LGBTQ youth, to international politics and more.
Inspired by the recent insurrection of the U.S. Capitol Building, junior Diego Medal prepared a presentation exploring the concept of political redemption, as well as shared an original poem he wrote the night of the event.
"A lot of times in school we are forced to do something based on a curriculum, so we aren't given the opportunity to really delve into our abstract and interesting ideas," said Medal. "To be able to do something you know for a fact you do really well and are really passionate about, and have it be appreciated, I think is one of the biggest advantages of Pass the Mic."
Other students drew upon personal experiences when selecting their topics, such as junior Olivia Torres, who presented a spoken-word poem to her classmates.
"My topic for Pass the Mic was about women's equality and perception, how they see themselves through social media," said Torres. "It's a really personal subject to me, and I wanted to share with as many people as I could, so therefore it was really important to me and I wanted to put it out there so everybody else could enjoy it."
However, like nearly all school traditions, the COVID-19 pandemic stepped in the way of original plans. Unlike last year's Pass the Mic showcase, an elaborate after-school event in which students presented their projects live to an audience of family, friends, and members of the school community, this year's presentations took place during class on Zoom, as it also coincided with the recent upper class quarantine. Nevertheless, according to Kokozos, the format change did not impact the quality of students' ideas nor the overarching takeaways students received, what he considers the cornerstone of the project and representative of the International Baccalaureate as a whole.
"IB Global Politics is really about each student finding their own interest going on in the community, in the country, in the world, and feeling more confident to talk about it," Kokozos said.
Before Pass the Mic ever entered Kokozos's classroom, it was an idea and a hashtag, and more than anything, it became an opportunity to grow the seeds of political thought already planted in high school students' minds.
Leave a Comment
About the Contributor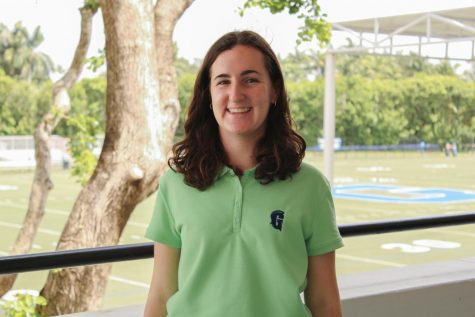 Kathleen Lewis, Editor-in-Chief
Kathleen Lewis is a senior serving her second year as the Editor-in-Chief of The Raider Voice. She started writing articles for the newspaper as a freshman,...