Community Reacts to Jan. 6 Capitol Chaos
Five days after the new year began, protestors stormed the Capitol building in Washington D.C. while Congress was attempting to confirm the Nov. 3 presidential election. Many people across the political spectrum denounced the violence, urging for a more reunited America. 
On Wednesday, hundreds of people lined up outside of the Capitol building, protesting for President Donald J. Trump to win the electoral college votes. The protests began to increase in size and numbers and became too much for the Capitol Police to handle. According to The Washington Post, the protestors were able to push past the police and trespass into the Capitol building, destroying windows and doors, and invading offices, including that of Speaker of the House, Nancy Pelosi. Senators took shelter and the counting process was stopped until it was safe to continue. By the end, four people lost their lives. Many Americans were stunned by what happened and were ready for the violence to stop. 
"Regardless of anyone's political view, today's events were disgusting," said freshman Claire Russell. "Being one of the largest countries in the world, it's stupid to be fighting and injuring people over differences that have basically been settled. There are more important things to focus on and our focus should be set on those things."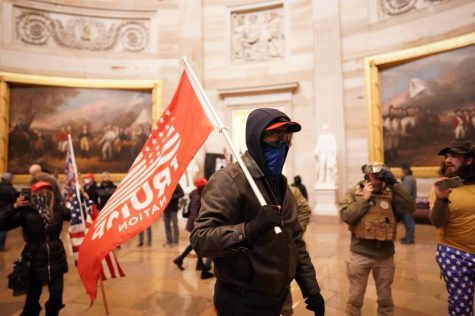 People from students to teachers to politicians are all wondering what the next step for America is. Many want to focus on President-Elect Joe Biden's inauguration, while others want to continue to protest for President Trump. No matter the side, most people agree that whatever next step is, it needs to be done in a peaceful manner. 
"As a nation, I believe a step in the right direction would be for the president to accept defeat and call off his supporters. In a democracy like the United States, there is no reason for the results of an election to be so unaccepted  and unpopular just because one side doesn't like the results," said freshman Rania Ishoof. "The results are a product of what the American people want and claims of fraud and rigging are unjustified. This might be just one step in reducing the great divide that currently separates our country."
Regardless of party affiliation, most people had the same reaction to the chaos, and are hopeful for a brighter future. 
"Honestly, I am still trying to process what happened today. As a historian, I know that it takes the benefit of distance in order to understand the implications of current events," said social science teacher Dr. Jacquelin Grant. "It is crucial that each individual understands how to evaluate what they are seeing, hearing, and otherwise being exposed to. Our students are being readied to take their place as contributing citizens who cannot be duped into undermining our laws. Our students help me to feel hopeful for the future because they are practicing these skills now."
What are your thoughts on the events on Jan. 6? Contribute by leaving a comment below.