Editorial | Remembering Juli Gerlach: The Upper School's "Ray of Sunshine"
This week, the school community was saddened by the loss of English teacher Juli Gerlach, who passed away on Sunday, Jan. 16. Those who knew Gerlach describe her as a beloved faculty member for more than 25 years, admired for her warmth, enthusiasm, and passion for spreading kindness to those around her. Yesterday, the school community held a ceremony and moment of silence to honor Gerlach.
Some of our staff members commented on all that Gerlach meant to them as a teacher, mentor, and friend.
________________________________________________________________________
"Ms. Gerlach was for sure one of the nicest and sweetest teachers I've ever had. Even though she spent most of the year online last year she found fun ways to lead the class and was always in a great mood. And once she came in person I realized how kind she was. She would walk around the school giving out chocolate, candy, stickers, etc." ~ Sophomore Eduardo Kingston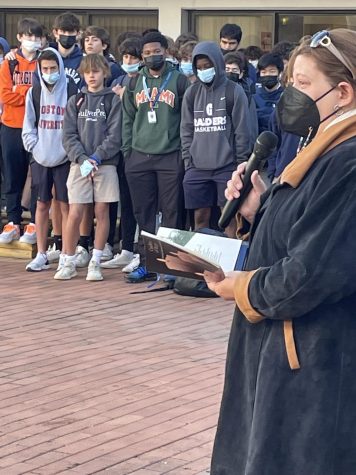 "Mrs. Gerlach was always that person you see in the hallways with a big smile on her face. She always did everything she could to spread kindness around the school. My freshman year, I was struggling with how I was being treated around school and I just kept having negative experiences. Mrs. Gerlach was there to talk to me whenever I wanted and gave me the best advice whenever I needed it." ~ Junior Jade Garcia
"I didn't have Mrs. Gerlach as a teacher, but I have a fond memory from last year of her. She came into the Student Union and started to hand out buttons to students. She told me it was a national day and gave me a button with the words 'you are amazing' on it. I still think back to that day and how it cheered me up." ~ Junior Ainsley Kling
"Mrs. Gerlach was one of the most supportive teachers about our magazine last quarter. Just being in Mrs. Gerlach's presence made it evident that she genuinely cared about everyone around her, and I'm so grateful for everything she did for our school." ~ Senior Kathleen Lewis
"Mrs. Gerlach was a teacher who strived to make her students smile. It was an extraordinarily comforting class to go into first thing in the morning, and I always felt like I was cared for there." ~ Junior Paulino Mercenari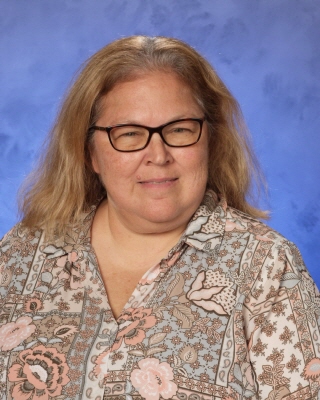 "Even though Mrs. Gerlach was online most of last year, she still did her best at making us happy by having little prizes, playing games, doing her best from home." ~ Sophomore Ian Uccelli
"During hybrid learning last year, Mrs. Gerlach would always make the week a little brighter with sweets and cupcakes that she would hand out in the halls, even to the students she didn't know." ~ Sophomore Samantha Gitlin
"She taught me how to set priorities, she guided me through darkness into light, and she helped me realize that there is always a bigger picture. She is the true definition of a ray of sunshine." ~ Junior Madison Aguilera
"Ms. Gerlach was a colleague and a friend. She had the uncanny ability to make everyone she encountered feel seen and heard. I'll always remember her message of taking a moment to be empathetic and kind to others and also to ourselves, and I hope to see this as her legacy on campus."  ~ Adviser Monica Rodriguez
Click here to read staff writer Madison Aguilera's reflection on all that she learned from Gerlach.
Leave a Comment