New Faces in the Athletic Department
Six new head coaches are leading this year's varsity teams. What can we expect? We spoke with three to find out.
On June 11, The Miami Herald recognized the Prep's Athletic Department with the prestigious All-Sports Award, granted to the best overall high school athletic programs in Miami. In addition to demonstrating the dedication and talent across sports teams and coaching staffs, the award was a sign of changing times and a resolute step towards fulfilling Athletic Director Ira Childress's initial vision for the future of the programs.
This year, the Athletic Department introduced six new varsity head coaches as well as new Assistant Athletic Director Ardeana Scott-Yon. The new coaches include Emilio Rodriguez for girls' volleyball, Ray Allen as head of  boys' and girls' basketball as well as boys' varsity coach, Scott Davidson for boys' soccer, Chris Leon for baseball, Beth Roberts for girls' lacrosse, and Duchess Williams for track and field.
"Coaches serve as mentors for student-athletes, and we want coaches that are focused on helping student-athletes grow both on and off the field," said Childress on behalf of the department. "We're excited by the success we've had, but we're by no means satisfied and want to keep getting better."
Three of the coaches spoke to The Raider Voice about their own goals and ideas for their teams.
Scott Davidson Takes the Wheel of 2019 State Championship Boys Soccer Team
"There's no athletic event that I care more about than Gulliver soccer," attests new boys Head Coach Scott Davidson.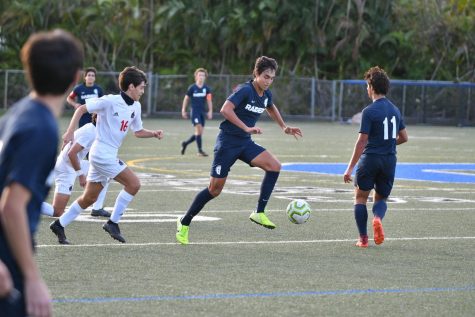 As a Gulliver alumnus, parent, and board member, as well as former soccer player and assistant coach, Davidson is not necessarily a new face. However, after a wide range of coaching experience at both high school and collegiate levels, Davidson returns with a fresh perspective and strong vision for the team's present and future. Davidson plans for the team to succeed on all soccer, management, and player experience metrics, using what he calls a "player-centric model."
Davidson enters a pitch already occupied by a talented set of players, as previous coaches Chris Bart-Williams and Neil Berment brought the team to the State Final two years in a row. In addition to continuing to grow upon the team's visible success despite transitions in coaching staffs, Davidson aims to develop a consistent management style and positive player experience on and off the field.
"When you're coaching a team of super high performers, you continue to learn. The learning is a little about soccer, and a lot about organization and functioning well together," commented Davidson. "Over time we can develop an organizational team DNA that will be self-replicating."
Baseball's Chris Leon Expects a Whole New Ballgame
For head baseball coach Chris Leon, moving from "Mega Magnet" Coral Reef High School to an elite private school setting is a sizable transition. However, Leon sees his new position at the Prep as an opportunity to hone a smaller roster with a high caliber of talent and nine returning seniors.
As the team returns from achieving an overall record of 13-10 last season, as well as notching a win in the District tournament, Leon plans to introduce an ambitious spring schedule in the hope of creating a challenging collegiate atmosphere.
"Realistically, there's going to be players that are moving onto the next level, and I want them to get used to that experience," said Leon in August. "The goal is to show these guys the grit and the competition around Miami so that in the playoffs, players are a little more accustomed to the challenges of playing good teams."
Some of the strong opponents that Leon has in mind include Marjorie Stoneman Douglas High School, Christopher Columbus High School, and local rival Westminster Christian. The Raiders look forward to learning from Leon, who brought Coral Reef to a 2019 regional championship and to the state finals the same year, with the expectation of creating a season of measurable success.
Beth Roberts Brings Collegiate Expertise to Girls' Lacrosse
While the Gulliver girls lacrosse team fought hard on the field last season, Elon University's Associate Head Coach Beth Roberts was in North Carolina, bringing her own team through their 9-3 season. This year, the Raiders and Roberts converge as she takes on the position of head coach.
Roberts has past experience coaching at the high school level, but has no plans to change her determined mindset as she leaves collegiate lacrosse.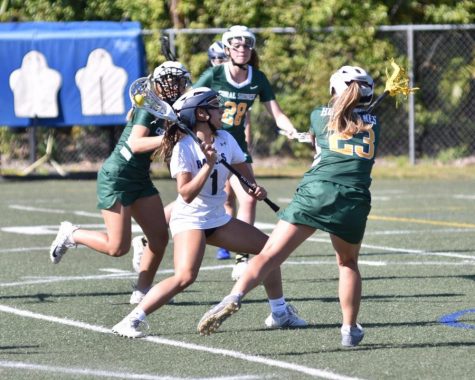 "A lot can be said that's very similar to the high school level, just because you have players with a passion for sports," said Roberts. "Our goal is to win a championship like it is at the collegiate level."
In addition to making strides within Gulliver's girls lacrosse program, Roberts sees her new position as an opportunity to grow the sport in South Florida, where lacrosse largely lacks the cultural popularity that it gathers in other parts of the country. Roberts had a successful college playing career at the University of North Carolina at Chapel Hill, and values the importance of coaches as positive role models for players.
"I had incredible coaches growing up, and throughout my career it's important for me to give back," said Roberts. "I'm really excited to meet every one of the girls that are interested in playing lacrosse and just getting them excited about the sport."
As more than five sports teams across boys and girls programs are receiving new leadership, the expectation has surfaced for one exciting year of Raider athletics.
"We want to be one of the top athletic programs in the country and we're not afraid to say that," Childress noted.
Leave a Comment
About the Contributor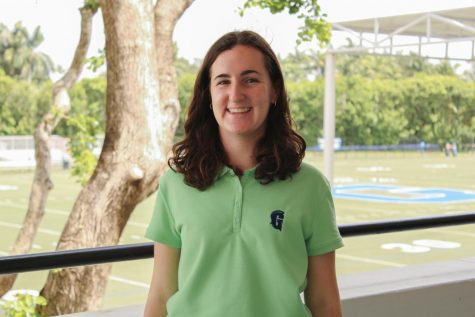 Kathleen Lewis, Editor-in-Chief
Kathleen Lewis is a senior serving her second year as the Editor-in-Chief of The Raider Voice. She started writing articles for the newspaper as a freshman,...