COVID May Downsize the 2021 Miami Open Scale, but Not the Tennis Quality
Comparing the 2018 Miami Open to the same tournament just three years later, quite a lot has changed. Previously, thousands of spectators from across the world poured into Crandon Park's oceanside facilities every year to see their favorite players compete. However, COVID precautions have reduced this year's Miami Open to a set of three courts at the new Hard Rock Stadium location, with only 1,000 spectators admitted per day. And although some of tennis's biggest names, such as 2019 champion Roger Federer, Novak Djokovic, and Serena Williams, are not competing this year, solid competition is not an area where the tournament is lacking.
As the missing longtime champions are replaced this year by young players and up-and-coming stars, ATP and WTA fans have been met with both their expectations fulfilled and new surprises. Most recently, after top-two seeds Daniil Medvedev of Russia and Stefanos Tsitsipas of Greece were both defeated in the quarterfinals, the final match will take place on Apr. 4 between 19-year-old Jannik Sinner of Italy and the winner of a currently undecided semifinal. On the women's side, top-ranked Australian player Ashleigh Barty advances to the final on Saturday, after claiming a solid victory over Elina Svitolina of Poland. Barty, the defending Miami Open champion, will face off against eighth seed, Canadian Bianca Andreescu, in what is likely to be a close and exciting match.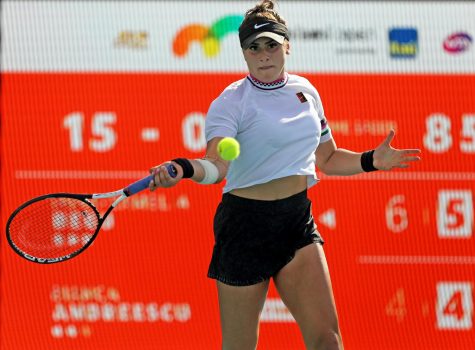 "It's been a little bit of an adjustment this year," Barty told the WTA Tour, commenting on both the COVID-19 changes and the tough environmental conditions she faced. "But without a doubt, the quality of tennis has been just as good and just as consistent, which is what obviously you're after in big events."
Despite COVID-19 precautions, numerous Miami residents have had the opportunity to attend the tournament and see some of their favorite players on the court.
"This year there were a lot less people and we all had to be socially distant with our masks on," said sophomore Mia Suarez, who watched Medvedev vs. Bautista Agut and Andreescu vs. Sorribes Tormo. "Regardless of the circumstances with COVID, the experience was still great and I was able to watch two amazing matches."
While the pandemic brought professional sports to a momentary halt, tennis fans and players alike are glad to see both the return of both exciting competition and one of Miami's biggest athletic events of the year.