In Sondheim's Memory, Thespians Venture "Into the Woods"
The Drama Department graced the stage at Pinecrest Gardens last Friday and Saturday night with a tasteful rendition of the Broadway musical Into the Woods. 
The musical merges the plot lines and characters of four Brothers Grimm fairy tales, including "Rapunzel," "Cinderella," "Little Red Ridinghood," and "Jack and the Beanstalk". The story follows a Baker (junior Theodore Ciperski) and his wife (senior Daniela Mostelac Diaz) who want a baby, but are unable to conceive it. One day, they are approached by a witch (freshman Siena McKelvey), who will help them with their one wish if they deliver her a cow as white as milk, a cape as red as blood, hair as yellow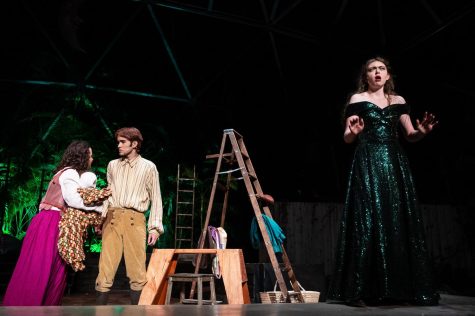 as corn and a slipper as pure as gold in three days' time.
A unique aspect of the musical was its taking place only months after composer Stephen Sondheim passed away in November.
"[Sondheim] was such an inspirational person in theater. He not only made great creations himself, but also inspired others, like Lin Manuel Miranda with Hamilton," said Idalia Basterra, who played Jack's Mother. "I think that we managed to do justice to it, which is more than any of us could've hoped for."
While students strived to honor Sondheim's memory through their performances, presenting his work was not the only focus of the two nights. Into the Woods marked the first musical the Drama Department has presented since before the onset of the COVID-19 pandemic.
Actors and crew members alike were overjoyed to be returning to the stage.
"I was so thankful that I got to be a part of Into the Woods. Truth be told, it was my first and last high school musical," said Mostelac Diaz.
Like dozens of school thespians, Mostelac Diaz lost the opportunity to star in Miranda's In the Heights, which was scheduled for spring 2020.  "I sort of felt like the universe gave me back the chance I had missed before," she added.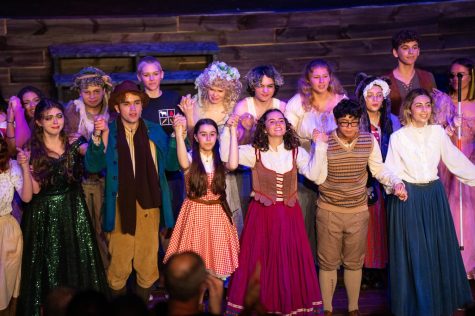 Actors and crew members devoted months of hard work and late nights to rehearsing every aspect of the show, especially the scores. With 72 musical numbers and over 100 sound cues, Into the Woods is technical in every aspect of its music.
"Sondheim is so musically challenging," said Director Jessica Fox. "One of the most complicated numbers is 'Your Fault'. We started it in January. There's a three part layering."
Actors had to send in voice recordings nearly every night to receive feedback from faculty to perfect their vocals.
"There were fourteen part harmonies and insane things that we couldn't have done without our voice teacher, Ramon. He was always there with us twenty-four-seven, sending us notes on weekends to help us improve," Basterra said.
The final production was considered an enormous success. Last Friday and Saturday night also are not the last time the Drama Department plans to perform Into the Woods, as they intend to take pieces to competition next year.
"I think that with all the late nights and hard work we put in, [Sondheim] would've been proud of our production," said sophomore Valeria Bigott, who played the musical's Narrator.