Decision to Open Campus on Sept. 10 Met with Mixed Feelings
There are to be two first days of school this year. Students, parents, and faculty members received a much-awaited email on Sept. 1 from President Cliff Kling, announcing the decision to reopen campus after more than four months of fully remote learning. It included a brief overview of new safety precautions, as well as a back-t0-school welcome video produced by school administrators.
"I have been missing attending school and seeing my friends every day, so it will be good to be back," said junior Colin Lewis, who plans to return to campus with the other on-campus upperclassmen on Sept. 11. "While I will take health and safety precautions, I think that the benefit of getting an in-person education outweighs the risk of being near other people."
The close majority of students plan on returning to an on-campus education, according to a recent survey conducted by Student Council on their Instagram account, @gulliverstudents. Out of a total of 219 students that responded, 58% said they planned on attending school in person, while 42% preferred to remain at home. Faculty members, meanwhile, have been working from campus since the new school year began on Aug. 20.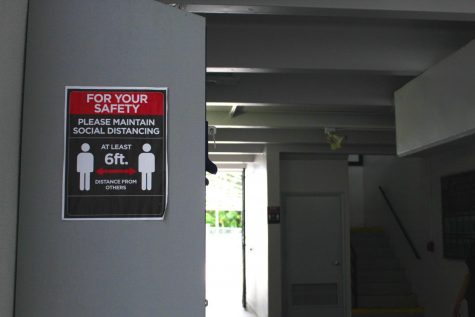 However, not all students shared others' enthusiasm about returning to campus when they received the news.
"Living in Key Biscayne, the drive to school extremely long, requiring me to wake up early and lose a ton of sleep," said junior Estefania Campos, who has decided to continue remote learning for the advantages of the extra sleep she gets without a long commute. "To me, sitting in a gym on Zoom most of the day is not worth losing two more hours of sleep."
Other students are attending school remotely due to health and family concerns. "After my family and I contracted COVID-19 and with my dad even being hospitalized for it, we've decided to err on the side of caution and stay home," said junior Elizabeth Rivabem. While Rivabem and her family now have antibodies to the virus after recovering, they remain cautious about exposure to different strains of the disease. "I could also put other people at risk since my dad is a healthcare worker, and the last thing I'd want to do is give someone else the horrible experience that I had."
Regardless of varying perspectives and safety precautions taken at school, the recent announcement gives all students their own decision to make: whether the on-campus learning experience is worth the risk of attending school in the midst of a pandemic.