Black History Month Celebrations Extended Across School Community
Recent efforts by the school community to emphasize inclusivity and discuss important topics have made way for an entirely new approach to Black History Month, a significant observance some previously felt was underrecognized. This year, administration required that all courses assign students a relevant educational activity to be put on display in a comprehensive virtual museum.
The event was coordinated by Model UN teacher Manuel Santelices and social sciences teacher Tori Sparks, as well as history teacher Dr. Keitha Burnett and Assistant Principal Donna Lee. It aimed to recognize and celebrate the positive contributions of black Americans across academic disciplines and content areas, as well as showcase student work.
"We celebrate Black History Month every year, but given the events of this past summer and state of race relations in the United States today, we believed it was important to take a moment and acknowledge this month in a way we hadn't before," said Santelices. "We were overwhelmed with the quality of the projects produced by the students."
Due to COVID precautions requiring the entire project to be completed in a virtual format, many teachers creatively designed activities that were COVID-safe and academic, as well as relevant to both Black History Month and the course subject. For instance, Spanish teachers focused on discussing and celebrating Afrolatino culture throughout the month; as a culminating project, students researched and designed websites educating viewers about famous Afrolatino musicians, writers, artists, athletes, activists, and more.
"It is easy to see the effort that some teams put into their page in how they not only showcased the accomplishments of these remarkable individuals, but also the students' own sensitivity, curiosity, creativity, and talent," said Spanish teacher Mirta Oramas. "These conversations are taking center stage in our school community, and we are making an active effort to bring meaningful social change to fruition."
A particularly extensive project that contributed towards inspiring the ideas for the museum as a whole was conducted by Burnett, whose students engaged in virtual interviews of eight black leaders respected in their fields. Some of these included Florida State Representative Dotie Joseph, DOH Medical Director Dr. Pauline Rolle, Captain Marion Bullock, and writer and producer Doreen Spicer-Danelly, along with several others.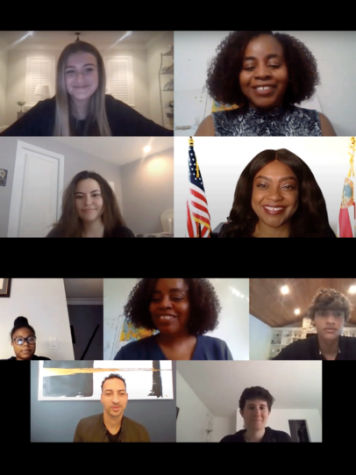 Students not only asked questions about the leaders' career paths and personal accomplishments, but also shared meaningful conversation, inspiration, and advice. Learning from her own family history the importance of building for future generations, Burnett said that she was inspired by the African proverb, "if we stand tall, it is because we stand on the shoulders of many ancestors." The selection of interviewees was made through a combination of community, professional, and personal connections; some even included one of Burnett's relatives and several of her former students.
What participants found most enlightening about this special experience was that the focus of the interviews became not about race, but about human connection and positive, thought-provoking conversations.
"It's very important whenever you recognize any group to remember that it is celebrating people," said Burnett. "What we look like doesn't even become important. That's what I saw going on, and that is what is important to me and why I do it." She also has plans to conduct similar student-led interviews and roundtable discussions in honor of Women's History Month, Holocaust Remembrance, Asian History Month, and other observances.
The students who participated in the celebrations across their classes, from history to math to world languages to science, felt that the interdisciplinary project as a whole was educational as well as meaningful.
"I think it was wonderful that they were trying to make [Black History Month] bigger than ever before," said junior Daniyah Hare, a member of the Black Student Union and co-manager of its recently established social media page, created to celebrate and educate students about the black community and history as well as publicize the club. "I think they've always done a good job in recognizing Black History Month, but I definitely think this year had a bigger impact."
On all accounts, this year's Black History Month celebration has been the most impactful Gulliver has ever seen. It provided an opportunity for students across the school community not only to learn about black history, but truly connect with it and recognize influential and inspiring people and stories in every discipline. According to Santelices and Burnett, plans have already begun for future celebrations and expansions upon the progress made throughout the month of February.