Debate Students Place 2nd and 3rd Speakers in State Competition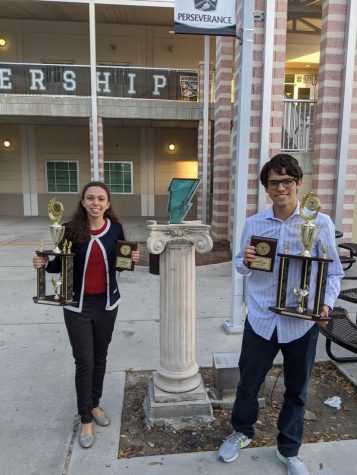 Last weekend, four debate students traveled to Orlando to attend the Florida Forensics League Varsity State tournament, where they competed against students from across the state regarding this year's policy topic: arms sales. After months of hard work and preparation, sophomores Carina Villalona and Jacob Gelrud won 4 rounds to reach the semifinals before losing to two nationally renowned North Broward Prep seniors. Nevertheless, they both were awarded among the top five speakers of the tournament — this time, Gelrud in second place and Villalona in third place.
"We've definitely improved a lot since last year, but we still need to work harder in order to defeat schools like North Broward Prep," said Villalona, who placed second speaker in last year's state tournament. "But I'm proud of our accomplishments in this tournament and to be able to represent Gulliver state-wide."
Policy debate is not a sport, but students involved in it, similar to athletes, practice and compete in debate on a daily basis. The state tournament is the debate team's final tournament of the school year. Throughout the rest of the year, they will prepare for next year's topic and do practice debates in class. Villalona and Gelrud were excited to finish their last tournament on such a high note and look forward to competing in more tournaments next school year.