How Student Voices Turned the Life Skills Club From a Conversation to a Reality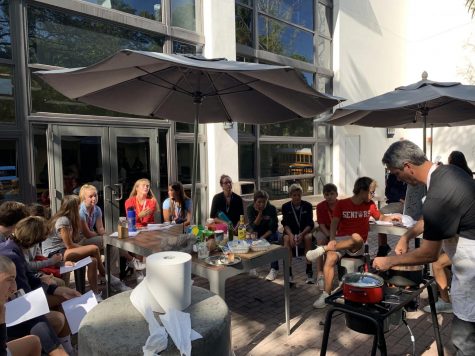 Most students spend their day sitting in class, expanding their knowledge in complex subjects varying from calculus to world history to astronomy. But when in their education do teenagers get to learn how to pay taxes? Or how to perform first-aid, or how to cook a meal? This is the premise of the Life Skills Club, a newly-founded school organization dedicated to teaching students vital skills that will prepare them for the world beyond high school.
Juniors Antonia Trius, Chloe Hernandez, and Sophia Guitar were in their advisory class one day with their advisor, Dean of Students Tyrone Sandaal, when they began discussing what knowledge they were lacking from the school curriculum. They noticed that something essential was missing from their education, and they decided to do something about it.  
"We were thinking of making it into a course, but that never worked out," said Trius, who is president of the Life Skills Club. Instead, she, Hernandez, and Guitar, along with juniors Juan Lazcano and Natalie Menendez, formed a club which currently has about thirty members and has hosted three events so far.
The Life Skills Club opened the school year by sharpening culinary skills through cooking demonstrations led by faculty members. Sandaal, for example, showed students how to prepare the Cuban dish "picadillo," something he considers a culinary staple. The club also hosted a homemade dessert competition held on the football field on Dec. 18. Students had the opportunity to bake any dessert of their choice and to share it with their peers. The student who was voted to have the best dessert received a prize.
Next, the club officers plan to teach students financial literacy, to prepare them for when they will live on their own and will start using credit cards and writing checks.
"The sooner you start, the more aware you are as you move forward," said Sandaal. "To have that head start and a good introductory concept [of financial literacy] is great."
As a whole, the Life Skills Club is dedicated to preparing students for the road ahead. As prepared for college they may feel in high school, many students find that there is a lot to life that they are unaware of by the time they reach college life.
"[The Life Skills Club] gives us more information on how to survive college," said Trius. "We're going to have to be by ourselves and we're going to have to be independent, so it's really important that we learn these skills."