Fight Boredom With These Safe Activities to Try While Social Distancing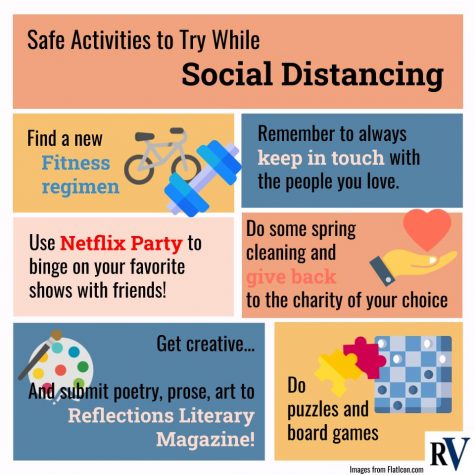 One of the most unique aspects of the Coronavirus pandemic is its ability to affect everyone. No matter your country of origin, financial status, occupation, or age, everyone is making some kind of a sacrifice. Whether that sacrifice be a job, event tickets, hanging with friends, or an athletic season, the best thing we can do in these lonely days of social distancing is find some new sources of entertainment.
According to the Centers for Disease Control and Prevention, the key to effective social distancing is staying at least six feet away from other people and avoiding attending meetings of greater than ten people. It is also advised that people frequently wash their hands immediately after attending public places. However, getting fresh air outside and leaving the house for essential errands – like going to the grocery store or to the pharmacy — are perfectly okay while following these rules.
You don't need to feel bored or trapped inside your home — remember that the purpose of social distancing is to maintain public safety and slow the spread of infection. Instead, take advantage of this mandatory alone time to find some new hobbies to enjoy. Here are some ways to stay safe from Coronavirus while still keeping your sanity this spring break.
Find a new fitness regimen
While gyms are closed and sports seasons are postponed and cancelled, it is not impossible to stay in shape through the next two weeks. Fitness is an effective way to combine entertainment and productivity and an essential element to maintaining good health and managing stress.
There are a multitude of at-home fitness classes available to take on the Internet. A quick Google search can reveal dozens of high-quality workout plans and video gym sessions. However, when looking for a more regimented fitness program, consider using a high-rated app like Nike Run Club, FitOn, or Peloton, or even create a personal workout program yourself.
Getting exercise doesn't have to be hard or require a lot of discipline. Simply getting outside to ride a bike or go for a jog can be a healthy habit to pass your time.
Binge on Netflix movies and shows — with friends!
What's a break without Netflix? Since it's advised by the CDC to avoid contact with people outside your immediate family, getting together with friends this week to watch a movie is taking a bigger risk than you might think. 
That's where Netflix Party comes into play. Netflix Party is a free program or Chrome extension available, allowing viewers to watch a Netflix movie or show at the same time as their friends online. There is even a chat feature, making for guaranteed fun during a long-distance movie night.
Test your brain with puzzles
Puzzles are a proven way to expand your mind while still having fun and staying safe while social distancing. Crossword puzzles, sudoku puzzles, and more are published every morning in the Miami Herald, but are also available online and in puzzle books you can order on Amazon or find in any bookstore.
Additionally, crossword puzzles have been shown to help expand vocabulary, memory, and speed. If you are preparing to take the SAT soon, doing puzzles can be a beneficial way to train yourself! 
Do some spring cleaning and give back
Another productive and safe way to spend your time this week is by cleaning your home. Try going through your old clothes and books and choosing ones to donate to a cause like Goodwill or to a charity organization of your choice. Additionally, a number of GoFundMe pages have opened recently to benefit hospitals, victims of Coronavirus, and people hurt by the new changes, like movie theater workers and restaurant owners.
Because online school will continue through April 15, it is important to create an organized workspace where you can study and concentrate as well as you do at school. Find a location in your home, like a desk or table with bright lighting and a quiet atmosphere to turn into your "private office" while attending online classes and doing homework.
Get creative (and submit your finished products to an award-winning school magazine)
One of the most productive and entertaining ways to spend spring break is by doing something creative, from writing to painting to cooking. Spend some time writing flash-fiction or poetry, doing a few sketches, or making that new recipe you've been waiting to try.
Furthermore, the Gulliver Prep Literary Magazine, Reflections, is now accepting submissions, including any art, poetry, prose, or songwriting. If you have any pieces that you would like to submit, please talk to Monica Rodriguez (rodrm@gulliverschools.org) or email me at lewi021@stu.gulliverschools.org. 
Most importantly, keep in touch with the people you love
Even if you have to avoid seeing them in person, make sure that you are frequently communicating with the people you care about, both family and friends. Some ideas include FaceTiming your friends over lunch, calling a family member, or even just texting an old friend you haven't spoken to in a while. Be sure to check on your older neighbors and family members and people who live alone, who are most affected by the pandemic and the isolation. Remember that they are likely going through a similar situation as you are, and would appreciate your (virtual) company. In times of chaos and confusion, like now, it is vital that we stay close to the people we love and continue to support each other.