Leath Hunt: 50 Years as a South Florida Educator
"Supportive."
"Lively."
"Funny."
"Mentor."
"Friend."
These are just a few of the words members of the school community use to describe IB Theory of Knowledge teacher Leath Hunt. After a monumental 50 years as a South Florida educator, Hunt will be celebrating his retirement this spring. He leaves behind him a distinguished career teaching courses within the social studies umbrella.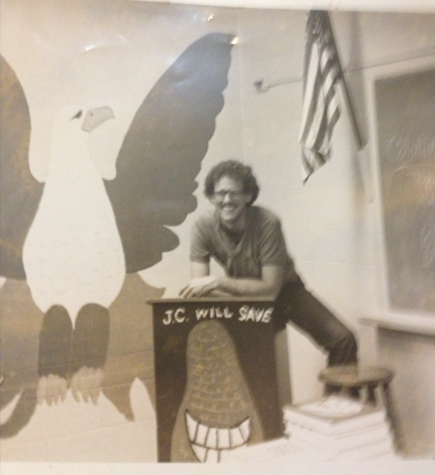 A serendipitous opportunity after Hunt graduated from college in his home state of Mississippi brought him to South Dade High School in Homestead, Fla. in 1971. Hunt looks back on his early years teaching as part of a historic and turbulent moment in America — just two years earlier, Miami-Dade County had made the decision to completely integrate its public schools. He entered his career in an environment in which rapid societal change was occurring within a highly intolerant community.
"That year the racial tensions were so high that we were afraid there would be fighting in the hallways," recalled Hunt. Prejudice also extended beyond racial discrimination. "You could be fired for being gay in Dade County schools. It was just a horribly traumatic time period in this country."
After South Dade, Hunt taught at Southridge, Killian, and Coral Reef Senior High Schools before arriving at Gulliver in 2008 as a Government and Economics teacher. Hunt admits that after previously teaching at generally large public schools, moving to Gulliver was a challenging adjustment. A spontaneous encounter with a former student, Assistant Principal Donna Lee, in his second year at the Prep was a turning point in its transition from a new workplace to a school where Hunt felt at home.
"Mr. Hunt was my Honors Government/Economics teacher at Miami Southridge many years ago," said Lee, who reunited with Hunt when she noticed a familiar face during her introduction at the opening faculty meeting in August 2010. "We often laugh about our time as Spartans, and his memory of me walking into Government wearing my track jacket. As a teacher, a colleague, and a friend, Mr. Hunt continues to be supportive and encouraging."
Understanding the difficulties that come with changing schools himself, Hunt has become a mentor for several other faculty members, with whom he has formed strong relationships during their shared time at the Prep. 
Among these is physics teacher Luis Luis Fayat, who met Hunt in some of his earliest days at Gulliver. The colleagues were brought together when Hunt took initiative to connect Luis Fayat, a Peace Corps volunteer, with an acquaintance who was also part of the Peace Corps. They continued to correspond, and Luis Fayat now describes Hunt as one of his closest friends.
"[Hunt] has a lot of wisdom and knows a lot about teaching, and he's taught me so much," said Luis Fayat. "I would say he's someone in school who people trust, given how much he knows and how much experience he has both in this school and in other schools."
IB Global Politics and fellow Theory of Knowledge teacher Dr. Michael Kokozos also found a mentor in Hunt.
"When I first started here, I was assigned Mr. Hunt as the person to make me comfortable at Gulliver. He came to visit my classes, and he made sure that I was getting acclimated," recollected Kokozos. "He had a lot of great feedback about what I was doing in Global Politics, and he's always thinking about how to make the IB program better and to have really good relationships with everyone in the IB."
While Hunt has taught varieties of courses throughout his career ranging from Government to English to AP European History, the course for which Hunt is considered most iconic is IB Theory of Knowledge, a discussion-based class designed to open students' minds to critical thinking and reflective questioning. Hunt says that in addition to stimulating discussion and debate, he emphasizes the importance of values and encourages students to "think about our obligations to each other, to our country, and to our world."
As the word why is always a dominant one in Hunt's classroom, many may feel compelled to ask what has made him so dedicated to his career throughout his 50 years as a teacher. While the true answer may be only known to Hunt himself, anyone who has been in Hunt's presence will notice the passion for learning and sharing his knowledge. 
"One of the nice things about education is while we will never become rich, we have the privilege of working with other educated people and working with people who deal with ideas constantly and inspire us to think," reflected Hunt. "It's been a wonderful profession for me. When you change schools, you think 'this time I'm here for a job' and all of a sudden you get teary when you leave."
In his retirement, Hunt plans to pursue his enthusiasm for traveling and learning Spanish, as well as doing volunteer work. The positive and encouraging attitude Hunt brings to the school is palpable. His 50 years in the classroom have been a gift to a myriad of students in South Florida.
"Mr. Hunt has been my classroom roommate and one of my best buddies for twelve years," said IB Coordinator Jan Patterson. "He will be extremely missed by both his students and fellow faculty. For him, teaching is truly a passion."