Assistant Principal Donna Lee Goes the Extra Mile
Assistant Principal Donna Lee averages ten to fifteen thousand steps a day, although she's no longer a high school track and field star. Starting at 5:00 a.m., Lee spends her mornings managing substitute teacher assignments, attending meetings for an array of committees, and greeting as many people as she encounters while making her way through the Prep's byzantine hallways. Lee knows these hallways like the back of her hand: she even has a color-coded spreadsheet detailing each one, along with the exact square footage of every classroom in the school.
A proud graduate of Miami Southridge Senior High School, Lee describes her own high school experience as "the best years ever." There, she was an ardent student-athlete, and even returned to be Southridge's athletic director before arriving at Gulliver's Miller Campus in 2008 to serve as assistant principal. 
"I remember that time and although I know that I can't recreate it, I want [students] to leave here feeling as excited as I did and tell their own kids stories about high school," Lee said.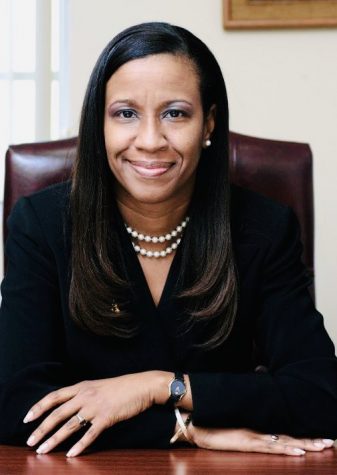 Two years later, Lee took on the assistant principal position at the Upper School Campus. Throughout her time at the Prep, Lee has overseen much of the progress that happens on campus and in the relationship between students and the administration. She plays a major role in running the GPAHC (Gulliver Prep Academic Honor Code) committee, which focuses on ensuring fair student discipline, as well as co-chaired the Diversity Steering Committee and holds weekly meetings with new Director of Diversity, Equity, and Inclusion Don Lawrence.
Lee's closest colleagues, such as Principal Jonathan Schoenwald, describe her as someone who is always several steps ahead.
"[Lee] is so invested in all of the students, and very few people I've met have her ability to combine details with the big picture," said Schoenwald. "She's really here because she knows that there's a bigger purpose to what she does."
As the onset of the COVID-19 pandemic forced the country into a state of fear and uncertainty, Lee was adamant about finding a way for students and faculty to return to in-person learning. Beginning as early as March 2020, administrators held daily meetings and Lee started working on what she calls a "passion project." This included outlining the logistics of nearly every aspect of the return to in-person learning, from when students arrived on campus in the morning to when they left in the afternoon, and what happened in between.
"As a parent, I know what it means when another parent entrusts you with the safety of their child," said Lee. "It was hard initially because people's lives were at risk, and there were so many pieces to it. Last year forced us to think outside the box and do things differently because we didn't have a choice."
With the aid of numerous spreadsheets and massive to-do lists papering her office walls, Lee was largely responsible for developing the one-way path of arrows when traveling throughout the school, as well as determining the maximum capacity of students and teachers that could safely distance themselves in each classroom during the height of the pandemic. At the end of last school year, other school leaders presented Lee with the "Spirit of Gulliver" award for her dedication to the project and inspiring attitude in regards to maximizing students' high school experience amidst the challenges.
Many days, it is dark outside when Donna Lee finally returns home. However, she says the hours often don't feel long: Lee loses track of time in her work so frequently that she sets a daily notification on her phone to remind herself when to eat lunch. According to Lee, it is the joy she receives from connecting with the school community that keeps her going every day.
"When students are happy, that's the ultimate for me," Lee said.