Students Present Political Issues at Inaugural "Call to Action" Symposium
Upon entering the Student Union decorated with flowers, banners, and hors d'oeuvres ready for the first "Call to Action" symposium, social studies teacher Keitha Burnett recalls hearing a student exclaim in astonishment, "this is real!"
According to Burnett, this was exactly the sentiment she wanted to hear. The event, which was held on Mar. 3, featured numerous student speakers, who expressed their opinions with research on contemporary political, economic, and social issues through a series of three-minute presentations. Those in attendance included classmates, teachers, family members, and student judges, who asked the students questions following each presentation.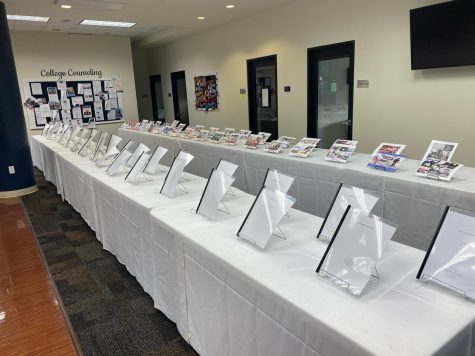 The symposium was the culmination of a portfolio project that all of Burnett's upperclassman students had produced throughout the year, which included a research paper on the same topic as their presentations. The goal was for students to apply concepts learned in class to a real-world context, as well as learn to draw their own conclusions from researching
current events. Presenters came from a variety of courses, from Government, to Citizen and the Constitution, to Women's Studies.
"While most students wanted to present and were honored to do it, I pushed students that wouldn't ordinarily want to do it," said Burnett. "The whole idea is to establish a community and involve all the real things that can happen as a result of you doing a paper."
Some students used the opportunity of the Call to Action to learn about a new topic to educate the audience about. Junior Julia Krawiecki Gazes, for instance, presented on mass incarceration, a topic with which she says she was originally not familiar.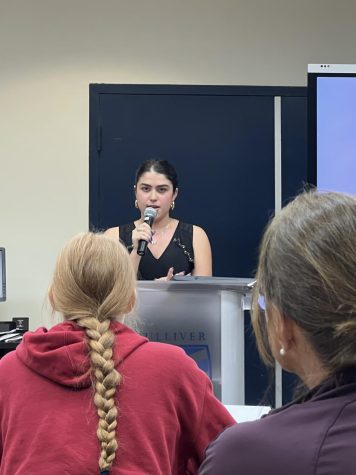 "I really had to start from the ground up, because before going into it I didn't even really understand what the prison industrial complex was," said Krawiecki Gazes. "What I found was a whole system of oppression, and I don't know how long it would've taken me to uncover the urgency of this issue if I hadn't chosen it."
Other presenters applied and analyzed issues with which they already had experience addressing, such as through service clubs and personal initiatives, to incite further discussion.
"I took all of my experience working with Generation SOS, which hosts young adults in recovery from substance abuse and how anyone can fall victim to it," said senior Michael Politis. "The experience was exciting because I enjoyed presenting and answering people's further questions. [Burnett] also provided me with a perspective on how legislation can help with youth substance abuse."
For both Burnett and the students involved, the symposium gave students a satisfying opportunity to show and talk about the knowledge they had gained through their research projects. Burnett says she is passionate about continuing to grow the Call to Action as a tradition, and possibly even involving other schools in the future.
"When a student who initially really didn't want to do it comes up to me afterwards and says 'I'm glad I did it,' that's enough right there," said Burnett. "They need to see something beyond the classroom.