Students Take the Stage at 12th Annual Uniteen Talent Show
Singers, dancers, musicians, and poets alike convened in the drama room on Tuesday night to participate in the Uniteen Talent Show, an annual event held with the purpose of allowing students to showcase their abilities while raising money for a charitable cause.
The Nov. 2 show was planned and organized by the officers of the Uniteen service club and their faculty sponsor, English teacher Timothy Bielawski. This year's event featured an array of performances and donated all ticket selling proceeds to Achieve Miami, a local non-profit organization that seeks to close opportunity gaps in education across Miami-Dade County.
"I think that this year's show was fantastic," said Bielawski, who has sponsored the Uniteen club since 2015. "We have so many accomplished performers at Gulliver and I love that the talent show gives them an opportunity to show off their skills."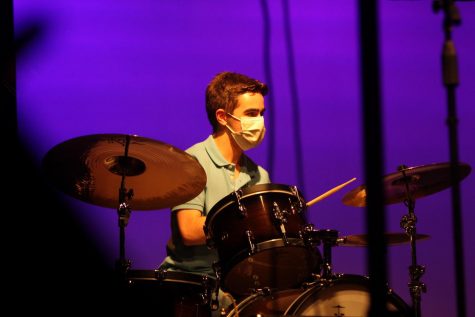 Many of the performers in the talent show were members of the Music and Drama Departments. Senior Daniela Mostelac Diaz, a club officer and cast member of the Drama Department's upcoming show Midsummer Jersey, chose to sing "Someone Gets Hurt" from the Broadway musical Mean Girls.
"I think it was a very vocally challenging song that also allowed me to get some acting in, which is something I wanted to practice," said Mostelac Diaz. "[The talent show] was a really comfortable place to be for one of my first on-stage performances since COVID."
Other students used the talent show as an opportunity to showcase skills that they often do not get to perform in front of an audience. Juniors Camila Sandaal, Julia Krawiecki Gazes, and Samantha Falcon collaborated to perform "Monster Mash" on the bass, vocal, and guitar, respectively.
"We don't usually perform, so when we saw the talent show posters on the walls of the school it was a new opportunity," said Sandaal. "I would definitely do it again and it was a really cool experience."
The Uniteen club, which came into existence in 2009, has hosted the talent show every year since its inception until 2020, when the event was cancelled due to the COVID-19 pandemic. In next year's talent show, the club members hope to build upon the returned tradition and continue to increase the student involvement and variety of acts.