New Miami Heat Stars Pave the Way to an Explosive 18-6 Record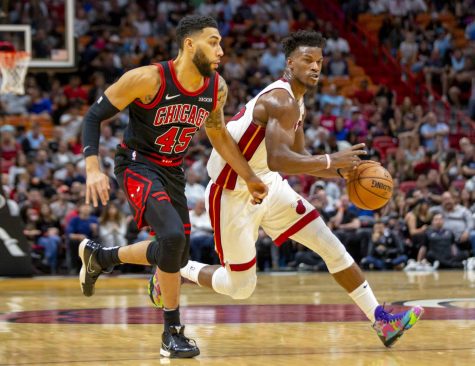 The Miami Heat are off to a monstrous start in the 2019-2020 NBA campaign. They hold the third spot in the NBA's Eastern Conference with a record of 17 wins and 6 losses. Thanks to the additional signing of former 76ers guard, Jimmy Butler, Heat Nation was ecstatic for the start of the new season. The Heat also drafted some very talented, young players as well. Tyler Herro, a 6'5 guard out of Kentucky, was their first pick and is proving himself to be a developing star in the NBA. Herro is certainly one to watch for years to come, averaging 14 points per game and 4 rebounds and showing great promise so far to be a rookie of the year contender. 
Another promising, but unexpected, developing star is a 6'3 point guard out of the University of Illinois, Kendrick Nunn. Though technically not a rookie, as he was cut by the Golden State Warriors last year, he is still eligible to win rookie of the year. Both Nunn and Herro are in the top five of rookies for scoring percentage and  top ten in assists per game. Most Heat fans would probably say that the future is in good hands in Miami, but these young players aren't the only reason for the Heat's success. 
Jimmy Butler, the Heat's biggest star and acquisition, is starting to love the culture in South Florida. It was Heat legend and former teammate of his, Dwayne Wade, who convinced him to move to Miami. 
In an interview with the Miami Herald, Butler recalled, "He (Wade) said I'd fit right in with this culture. That's why I'm here."               
 Butler left a championship-contending Philadelphia 76ers team for a struggling Miami team that missed the playoffs last year, and on top of that he took a paycut. Butler is already 100% committed to stay in Miami. The Heat's mantra is "the hardest-working, best-conditioned, most-professional, unselfish, toughest, meanest, nastiest team in the NBA." Butler loves that intensity and tenacity.
 "I want people to hate us,'' Butler said. " I want people to hate the Miami Heat." 
But even two young shooting stars and one big time player aren't enough to propel this team to victory. For the Miami Heat, it's the little things that matter, like making sure everyone is playing to their full potential and making sure everyone is happy working together as an organization. The Heat are finally finding their groove and figuring out exactly what they need to be doing. It seems the wait is finally over for Heat Nation and Miami is back to being an elite NBA Franchise once again.