Senior Laura Attarian Reflects on the Lacrosse Team's Abrupt Season End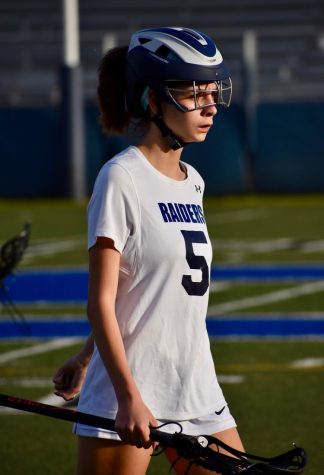 Senior Laura Attarian plays on the girls varsity lacrosse team and, like most seniors who play spring sports, is saddened because her senior season may have been cut short. Since her freshman year, Attarian worked her way up into the rotation, hoping to experience the perfect senior season as most athletes do. But after the cancellation of it due to Covid-19, she was left heartbroken.
"I'm really sad about lacrosse season being cancelled. After four years of playing the sport and having the best time of my life on the field, I was really looking forward to sealing shut my high school lacrosse career with the experience of a senior game, but now we probably will not have that anymore," Attarian said.
Although having her season cut short due to Coronavirus pandemic, Attarian remains positive, determined to continue to train and practice with her team, just in case the season returns. Attarian bikes everyday along with online workout sessions to stay in top shape. Her coach holds virtual practices through Zoom, and sometimes has the team watch game films or workout together by following a workout video. These meetings help Attarian stay in touch with her teammates and talk about the sport they all know and love.
"I think it is a good alternative to real practices because we still get to talk and see each other and work out together as a team and keep the same bonds we had before this happened," said Attarian. 
After being informed that athletes who play spring sports may receive an extra year of eligibility, Attarian said she does not want to take it because she is happy about how the last four years went and is now ready to move on to college. Attarian also said she is ready to move past the pandemic and is not going to dwell much on the loss of the season.
"I would not take the extra year of eligibility because I play lacrosse for the fun I get out of it and not to get recruited. I would not mind and have even heard that Florida schools might extend our season to June if we move past this and I will definitely be happy about that," Attarian said.
Looking back at her high school career, Attarian said that she has had other obstacles to overcome and did so successfully.Even while remaining socially distant, Attarian still has her teammates and coaches supporting her throughout the process being there for her when she feels down about having the season cancelled.
"I've learned many lessons from these four years including the ability to overcome any obstacle. The lacrosse team became a family to me throughout the years and have been there for me since the start. It was definitely one of my favorite parts of high school," stated Attarian.