Memes that defined 2016: A look into the most popular memes of the year
Katherine Cohen
December 20, 2016|118 Views
Hang on for a minute...we're trying to find some more stories you might like.
Memes are a unique, new, cultural and global phenomenon that have changed the general composition of the Internet. What is a meme? A meme is an image, saying, video, challenge or other subject that has become popular and has gone "viral."
The spectacular thing about memes is their brevity and universality. Once a meme has become popular, for days people will be talking about "the dress" or Daniel's white Vans, but then it will vanish as quickly as it appeared. This property of memes provides a unique type of nostalgia, a nostalgia that can go back for a classic year-old meme or even a meme that is merely one month old.
"I think memes are a new art form, they express the political and social climate of a specific period. Some memes are definitely better than others though," said senior Alejandro Muñoz. Now, we shall delve into this nostalgia and reflect on the memes that made 2016 endurable.
TV Show Memes: Spongebob memes made a comeback with the "Spongegar" meme. Spongegar is an image of Spongebob's caveman alter-ego looking surprised and stretched. This image is used to show a person's reaction to something unexpected. There is also a popular blurry image of Mr. Krabs used to show when a person is confused or rattled. In addition, Arthur memes became rather popular in 2016 as people put the image of Arthur's clenched fist to a variety of aggravating scenarios.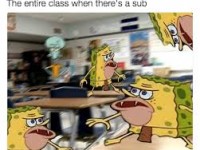 Harambe: After the 17-year old gorilla was shot and killed in late May, there was a significant controversy surrounding the endangered gorilla's death. Many were angered about the killing because they claimed that the gorilla was protecting the young boy who had fallen into the enclosure. In the weeks following the incident, Harambe became a popular meme.
Dat Boi: No one understands this meme, but it is well loved nonetheless. Dat boi is a meme featuring a poorly drawn digitized frog riding a unicycle. The line that coincides with dat boi's picture is the declaration that "Here come dat boi!"   The meme went viral through a popular music video and an image of dat boi, which people then began to Photoshop into a variety of different locations. Though this meme was never as popular as some such as Daniel's White vans, it is a more popular meme that some avid meme-lovers still utilize.
Political Memes: The 2016 U.S. election was one of the most divisive elections in history, and many survived the intense political climate by turning to memes and laughing through the turmoil. There were many popular memes throughout the election, the most notable being those of Ted Cruz as the Zodiac, Hillary v. Bernie graphics, and various memes contemplating the elusive nature of Donald Trump's hair. The meme in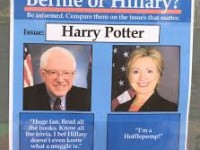 volving Ted Cruz portrayed the candidate as the elusive Zodiac killer, a serial murderer popular in Northern California during the 60s. The claims were comical not in their validity (Cruz was born in 1970) but rather in their absurdity as the electorate spouted their detective hats and sleuthed for evidence. Following each presidential debate, social media websites were overpopulated with Hillary Clinton/ Donald Trump memes, neither candidate escaping ridicule. After the election, memes featuring comical banter between President Obama and Vice President Joe Biden began circulating.