Virtual Reality: 1, Social Distancing: 0
During these uncertain times, social distancing is playing a huge role in our everyday lives. The government has ordered people to only leave their homes when absolutely necessary, and social contact with friends or family should be reduced to a bare minimum in order to contain the Coronavirus. And it's times like these where many people resort to other methods of seeing people they're close to. 
"Video calling just doesn't cut it anymore," said sophomore Mateo Jaime. "It definitely feels strange to be cooped up in my house with minimal ways to see the people I care about."
People can always use video calling programs such as FaceTime or Zoom, but the closest thing available to meeting in person is the use of a virtual reality device.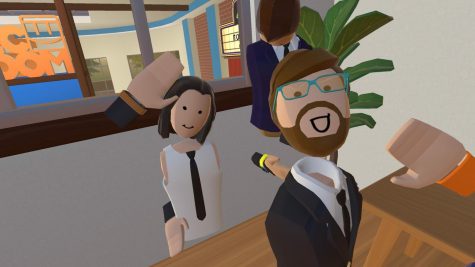 "I've met a lot of friends through virtual reality, specifically through a game called VR Chat. It allows me to meet with all of the people that I can't see because of quarantine and it gives me almost the same sense of meeting with them in person," said senior Nina Shalom. 
One such device is called Oculus. The Oculus line of products is capable of running several games where the player customizes their own avatar and can join with their friends and either just talk and hang out, join a simulated environment, play games together as if it were in person, along with other activities. Even though COVID-19 has made it harder for people to see each other, virtual reality allows people connect in a virtual world.
"My Oculus (VR Device) has really helped me stay in touch with the people that I cannot see as frequently anymore," said senior Javier Concepcion.
Concepcion is a fan of the Oculus, having used it frequently to connect with friends and family.
 "I have not only been connecting with my friends, but even my family members. Every so often we all put on our headsets and play games together as if we were all in the same place," Concepcion said. "My [Oculus] headset is making this whole corona quarantine thing ten times easier."
Games such as "Rec Room," "VR Chat," and others allow for limitless character customization and a wide variety of in-game features. Most virtual reality headsets come with a hefty price tag (the Oculus VR headset retails for around $399), however, with free chat games available, many find it useful to stay connected in different ways.