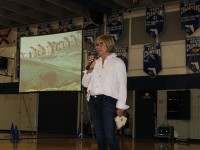 On Friday, Mar. 17, representatives from the Tina Dailey foundation spoke to students during Flex Time about the dangers and signs of drug addiction. The Foundation is named after Tina Dailey, an alumna who died of an overdose in 2014.
First, Vilma Dailey, mother of Tina and one of the founders of the Tina Dailey Foundation, spoke about her daughter's life and struggle with addiction, before dying of an overdose in 2014. The Tina Dailey Foundation was founded by Tina's parents Vilma and Richard Dailey, with the mission of changing the stigma surrounding drug addiction, in order to  help and support those suffering from the disease so that they can overcome it and live healthy, full lives.
During Tina's high school years, she excelled in both academics and athletics. However, this was also when she first got involved with drugs. She later got further involved with drugs and alcohol during her years away at college. She sought help and went to rehab a number of times before overdosing at age 35 in November of 2014.
The foundation seeks to emphasize the fact that addiction is a disease, and eradicate the idea that those who get addicted to drugs do so because they are a bad people or make poor decisions, citing Tina's life as proof.
"Whatever you see in your mind's eye when you think of an addict, Tina was the opposite. She was the light and energy in any room," states the Tina Foundation Website, http://www.thetinadaileyfoundation.org.
The assembly also featured two keynote speakers:  Eric Lang, Head Fire Chief of Key Biscayne, and Amy Exum, a therapist with Baptist Health South Florida. Chief Lang spoke first, recounting his experiences working a first responder for people who have overdosed, and how much it can wreak havoc not only on the lives of addicts, but on families and the community as well. Exum then spoke about how drug addiction should be destigmatized and how easy it is for teenagers to be pressured into using drugs that can lead to misuse, abuse, and addiction.
Later, Jill Paget Lowe, another member of the foundation's board of directors spoke, encouraging students to join the program and become an ambassador for the Tina Daily Foundation to help make a difference in the lives of many South Floridians.
"When someone is in need is when true friendship is forged," said Lowe.
For more information on Tina's story and how to get involved with the Tina Dailey Foundation, visit www.thetinadaileyfoundation.org/ or call 305.204.9907.