The New Travel Experience During COVID-19
Face-masks, social distancing, and tickets are all now part of the flying experience. Just six months ago, we would have never imagined that these would go together. However, this has all changed due to COVID-19. New safety precautions are now in place at airports, such as mandatory face masks, social distancing protocols, sanitization, and temperature checks to prevent the spread of the virus. 
"We cleaned everything we had, wore masks constantly and cleaned and changed them per flight, and we used hand sanitizer as well," said sophomore Nia Cataggio, who flew to Montana with her family this summer and took as many safety precautions as possible. "When we arrived home, we all took showers and washed the clothes we wore."
Safety protocols vary from airline to airline. Delta and American Airlines, for example, are  limiting in-flight food and beverage services, using clear plastic shields, frequently cleaning the planes, and adjusting the boarding and offloading of aircraft, to name a few.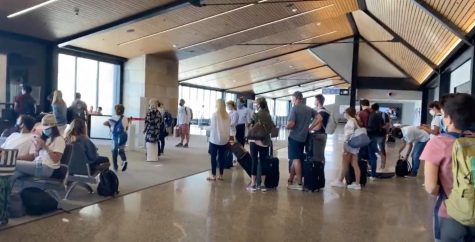 The fear of traveling by plane influenced whether or not people chose to fly. According to an article on DW, an estimated 60 percent of the 17,000 planes are currently grounded in May due to the lack of passengers. In July, airlines carried 21.4 million passengers — this is a 73% decrease from the number of passengers last year. Even with less planes in the air over the summer, many students still traveled this summer despite the pandemic.
Sophomore Jonah Schachter and his family, however, chose not to fly. Instead, Schachter and his family drove to South and North Carolina. 
"We were cautious about one of us getting the virus," Schachter said. 
Even students who did fly, such as sophomore David Diaz, were nervous.
"I was worried at first about my parents getting sick, but overall traveling wasn't too bad," Diaz said, "It was a nice change of scenery at least, and I got to go to the beach." 
While air travel may present new dangers during a global pandemic, it is still a part of everyday life and a risk many have to take.