Coaches Resort to Online Meetings via Zoom to Hold Practices
With the recent outbreak of COVID-19 and the shutdown of schools and organized sports, virtual practices via Zoom have emerged as the front runner for continuing sports while maintaining social distancing.
During these practices, coaches watch film, go over plays, teach technique, and some may even perform workouts with the team on the call. The coaches use online practices to ensure that athletes maintain the same bond they had at the start of their season and to keep their minds fresh with various plays and strategies. They also use it to make sure the team is doing what they need to be doing to stay in shape by having fun workouts in the meetings.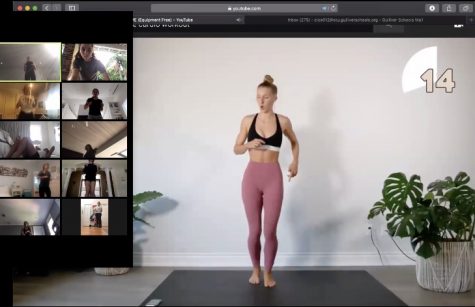 "I use zoom to call my guys twice a week to get them caught up on the new playbook, but it's also nice to be all together socializing and talking some football," said the varsity football team's offensive line coach, Matt Dixon.
Coaches are taking full advantage of this quarantine to sharpen their players' mental game. These online practices can be very beneficial to the mental aspect of sports because if the athletes fully understand how their strategies work and why they're put in place, then they are able to execute them more successfully, ultimately leading to the sport being more competitive. While working on their mental game now during online practices, athletes are given a chance to rest their bodies and to get a break from living the hectic life of a student-athlete. 
"Honestly, it's not that bad," said sophomore football player, Justin Neyra. "Before the quarantine, I was having multiple workouts a day and had school on top of that, so I was very stressed."
In the crux of the matter, while social distancing may sound terrible to most, it can also have some positive effects for athletes.