Heat Hoping to Bounce Back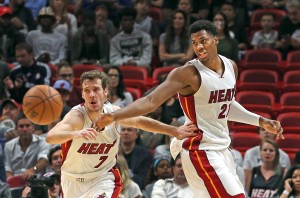 The Miami Heat are entering unchartered waters as the team's record currently stands at 8-17 (as of Dec. 14). Part of the Heat's struggles may have come from it's tough schedule "We're not playing bad teams, we're playing playoff teams. We've played the Spurs twice, Toronto, and Charlotte", said Hassan Whiteside mentioned in a press conference after the team's 93-90 loss to Atlanta.
With the "Big 3" officially gone, the young core of the team has needed to step up. Six of Miami's 15 player roster are first-year players. Additions James Johnson and Luke Babbitt have played in every game so far this season, showing the importance of the new players. Dion Waiters and Rodney McGruder, also first year players, have missed just one game this season. Starting point guard Goran Dragic mentioned the struggles of staying focused as another reason for the team's rough start, and pointed out that it is something they need to improve fast for the team to get back on track.
"There are so many times when we aren't focused," Dragic said, "We score, and they walk to half court pitch it [the ball] half [court] and have a wide open dunk. You can't win games like that."
As Whiteside mentioned, the Heat is only giving up 98.24 points per game so far this season, which is 5.44 points below the league's average of 103.68, and ranks fifth in the league. However, on the other side of the ball, the Heat average just 96.06 points per game, which is 7.61 points behind the league average and stands at 27th in the NBA.
All six additions have contributed in different ways.
"I know coach trusts me," said sooting guard and 6-year veteran Dion Waiters, "Anytime you get that type of freedom, the game is always easy. It a great thing, I've never really had that," Waiters said on how Coach Erik Spoelstra has given him the freedom to make plays. Waiters has averaged more minutes this season (31.8) than in any previous season and is also averaging 14.2 points per game, the best since the 2013-14 season that he spent with Cleveland.
Even if it may not seem as so to fans, With the team's young talent and newly-acquired veterans, the future of the Miami Heat is bright.