Should the U.S. restore relations with Cuba?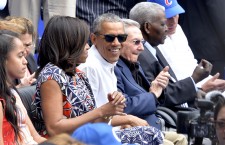 Although Cuba is one of the United States' geographically closest neighbors—nearly 90 miles off the coast of South Florida—the two nations have managed to remain distant. Under United States jurisdiction, an embargo has served as a restrictive blockade of travel and commerce between the states for nearly half a century.
Following President Barack Obama's recent visit to the island, the question of whether or not it is an appropriate time to improve diplomatic relations has risen to popular controversy. Proponents of maintaining the embargo argue that Cuba has not met conditions for lifting the restraints, which include both a transition towards a more democratic institution and improvements of human rights. According to The Washington Post, these supporters claim it is painful to see a nation based on individual liberty and protection of rights under law keep silent about the oppression of thousands. They also say that giving in will only make Castro's communist regime appear stronger, which in turn will make the United States seem weak.
While I understand this reasoning, I both agree and disagree with the argument. Copious research and studies show that the continuation of this embargo serves neither country well, but instead harms aspects of their political systems, economies, and societies. Therefore, there may be a greater chance that repeal will stimulate a more positive change in a way that the stagnant policy has not. According to a national poll by Fox News, 73% of Americans favor Obama's recent policy regarding Cuban relations. Another poll found that roughly the same number (72%) support lifting the embargo.
The U.S.'s decision to normalize affairs has great impact on our Miami community. Many Cubans, whom themselves fled the Communist regime, are vocal in their support of re-establishing ties to help their struggling homeland. If 50 years of the sanction has not overthrown the oppressive Castro government, there is no reason than further extension of the embargo will. Nonetheless, it would be irresponsible for Obama to restore diplomatic relations without preparing an agenda to ensure the nation continues to improve upon current conditions of human rights and freedoms.