Theater, Dance, and Music Students Make Performing Arts Trip to Chicago
The performing arts department traveled to Chicago last week to participate in a variety of workshops and watch live performances. The group also toured the city's most notable landmarks and visited universities while immersing themselves in Chicago's culture. Each strand: theater, dance, and music, engaged in activities and workshops unique to their respective performing arts group.
Theater students from all grade and skill levels were given the opportunity to watch live theatre and learn from performers in the Chicago theater industry. The young actors improved their craft through new techniques and skills by taking part in workshops with actors from The Notebook and Second City, along with learning stage combat from professionals. A select few students were also given the chance to perform and audition in front of a Chicago talent agent. 
"Auditioning for the talent agent was very formative in the continuous growth of my craft," said senior Theodore Ciperski. "The experience gave me a lot of healthy critique and notes on my monologues that will be very helpful for when I audition them later in college."
Those who were not up and auditioning were watching and learning from their fellow peers.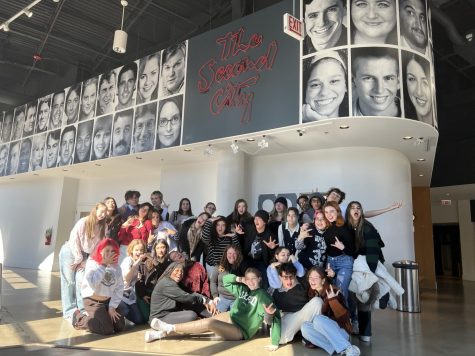 Along with the theater strand, the dancers also immersed themselves in Chicago's vast variety of artistic workshops, along with watching live performances from Chicago's own professional ballets. Dancing in workshops from Joffery Ballet to Hubbard Street, the dance strand experienced both the classical and contemporary sides of Chicago dance. 
Dancer, performer, and musician, Dylan Bardelas attended the trip, participating in all three strands. Bardelas said the trip gave him an opportunity to work with a wider range of people.
"I was able to look at all three sides of Chicago's performing arts culture because Chicago is a great booming city for the arts," said Bardelas, "my favorite workshop definitely was the Joffery Ballet workshop that we did. Personally, I believe ballet perfectly combines all three arts that I do." 
Music students improved their skills through industry professionals by attending seminars and orchestra performances. The young musicians also learned through diverse musical workshops with "The Notebook" Music Director, the Chicago Symphony, and a jazz vibraphonist. They also watched the Jalen Baker Jazz Quarter perform. In addition to the workshops, performers in all three strands visited landmarks such as the Willis Tower and the Bean, dined on deep dish pizza, and walked the city in the cold Chicago weather. 
Although this wasn't the first time the theater troupe has been on an out-of-state trip, it was the first time the entire performing arts department went together. 
Theater teacher Jessica Fox, explained the importance of travel opportunities for all skill levels in art, "I like to have at least one trip a year that has nothing to do with judges, scores, or 'talent.' That everybody, even if you're in the beginning level class, are just as eligible to participate and grow in, so it's not about competition."
The trip was all about creating learning opportunities for young artists and helping them develop their craft in a professional environment.