In celebration of Hispanic Heritage Month, alumnus Bradley Delgado '15 visited the Upper School Miller Campus on Friday. The Hell's Kitchen contestant and social media influencer engaged students and faculty in a fast-paced cooking demonstration and mini-competition.
"It was pretty overwhelming with all the loudness and the messiness, but it was still fun to do because it was an experience I've never had before," freshman Sofia Estrada said.
Delgado, who has over 170 thousand followers on Instagram and about 44 thousand followers on TikTok, returned to his alma mater for a cooking demonstration. His former teachers were glad to see him again almost a decade after his graduation with his newfound success.
"Since ninth grade, [Delgado] was loved and adored by all of his teachers and all the staff here. He was always kind and funny and entertaining," Upper School Learning Specialist Christine Acosta said. "And he also always took like a leadership role and he always had a lot of fun, you know, doing it. So we adore him and we're so happy that he came back to do this for us," Acosta added.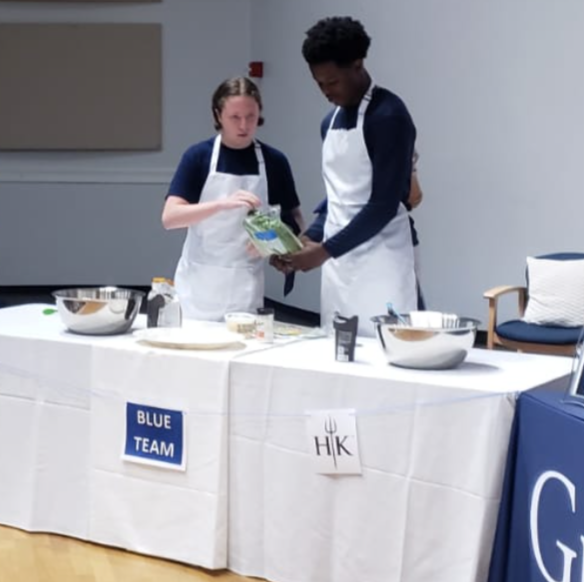 Four students were picked to participate in a cooking competition that followed a "Hell's Kitchen" format, with Delgado imitating the way Gordon Ramsay hosts the show, to see who could make the better Caesar wrap.
 "I was kind of nervous to go and cook… but it was overall fun and a nice event to do," junior Julian Terry said.
Delgado explored his interest in cooking after preparing a Thanksgiving meal for his friends when he was living in New York and attending acting school.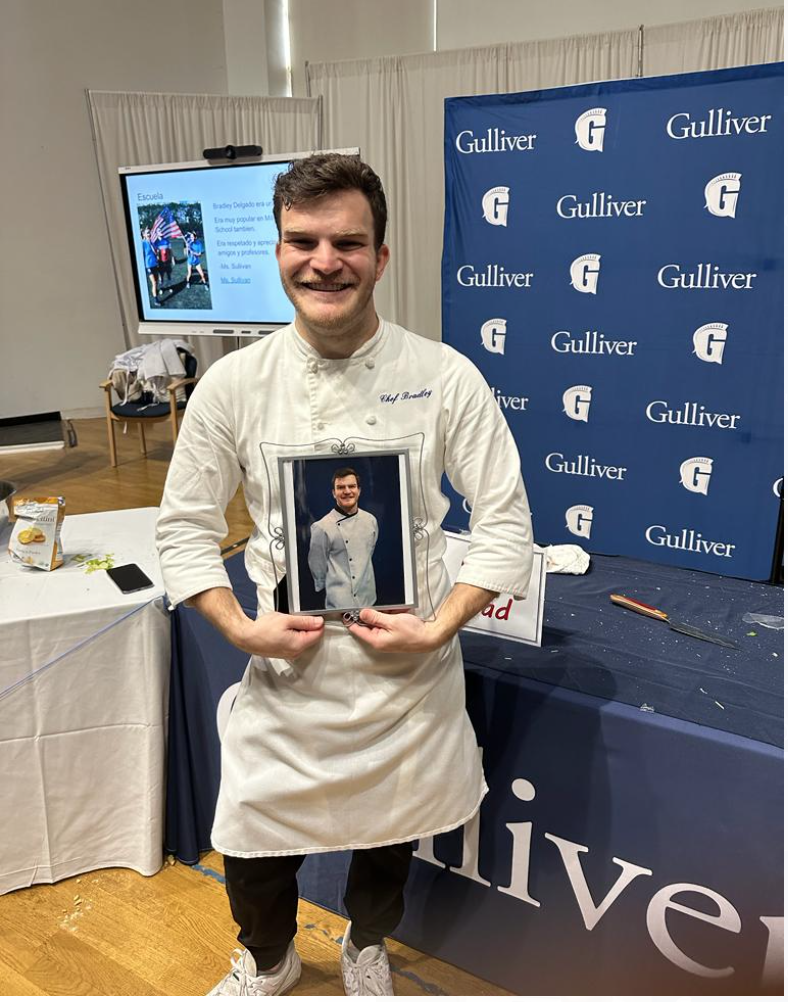 "I had all of these friends from Europe, Australia, London, and they've never had a Thanksgiving. So I was like, wait a minute, we're gonna do a 'Brad's Giving'. I never had any culinary experience at the time, and I was like, okay, we're gonna try it," Delgado said.
After much thought, and after receiving compliments from his friends on his cooking, Delgado decided to shift from studying acting to studying at the Culinary Institute of America.
After culinary school, Delgado went on to work at multiple restaurants such as Juiva in Miami Beach and Uchi, a Japanese restaurant in Wynwood. He also worked for many restaurants in Napa Valley like Goose & Gander. During his time in Napa Valley, Delgado was mentored by French Chef Ludo Lefebvre, whom Delgado described as "the French Gordon Ramsay."
"If you would finish something and it was not up to par, he'd just grab it and smash it at the wall. And you'd be like, great, now I have to clean the wall and cook five other steaks," Delgado said.
Only halfway through his time working in Napa Valley, Delgado was chosen to be on Hell's Kitchen where he learned a lot about confidence from Gordon Ramsay.
"[A]t first, I was a very timid chef, and Ramsay taught me confidence where it's like 'Listen, if you think something's not right, say something and don't just stand there,'" Delgado said.