Hispanic Flavors Dominate this Month's Lunch Menu in Celebration of Hispanic Heritage Month
Latin flavors took over the lunch menu in celebration of Hispanic Heritage Month. From Caribbean dishes to traditional South American flavors, a wide variety of cultures were celebrated.
Hispanic Heritage Month began as Hispanic Heritage Week in 1968 when President Lyndon B. Johnson felt it was important to recognize the contributions Hispanic Americans made to America. Thanks to President Ronald Reagan, 20 years later Hispanic Heritage Week became Hispanic Heritage Month which would commence on Sep. 15 and end on Oct. 15 (the independence day of many Latin American countries.) Even with Hispanic Heritage Month being a relatively new national holiday, its presence on campus through this month's cuisine is nothing short of impressive.
What better way to celebrate a culture than through a shared love of food? The variety offered was notable: Venezuelan arepas, ropa vieja from Cuba, gallo pinto from Nicaragua and Costa Rica, plantains which are popular in the Caribbean, Colombian empanadas, the list continues!
Many of our chefs have personal connections to the food they've been cooking for Hispanic Heritage Month, making the menu extra special.
"As a Costa Rican, gallo pinto is one of our national dishes so I learned how to cook that from my mom," said Chef Marcos Bustos.
Chef Bustos was born in New York but comes from Costa Rican descent. Even though the first type of cuisine he learned to cook wasn't Hispanic, latin foods have a special place in his culinary experience, one which he's been sharing with the student body.
The menu offered a special opportunity to many students who had never tried one of the dishes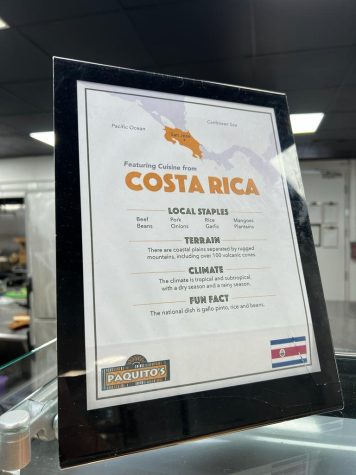 served. According to Head Chef Marlene Videa, this was the exact purpose of creating a menu centered around Hispanic cuisine: to expose students to different cultures, helping them learn more about the origin of the popular dishes.
"I like being able to contribute to the celebration of Hispanic Heritage Month because we can make known the different types of food that are from our country that are not common," said Chef Videa.
Chef Videa's mission turned out to be a success noting that students tried— and loved— certain Hispanic dishes for the first time. 
"I tried arepas for the first time and they were really good. I had no idea they were made from corn which I love or that they were from Venezuela," said junior Mia Carrasco.
Carrasco is of Cuban origin and was excited to see familiar dishes on the menu such as ropa vieja, the national dish of Cuba which is typically eaten with plantains.
Many students, however, have no relation to Latin America whatsoever.
"I tried the arroz con leche for the first time. I didn't really like it but I'm glad I got to try it. I also got to try arepas which I really liked and now I've even had them outside of school, something I wouldn't have done before trying them here," said senior Ainsley Kling who has no familial relations to Latin America. "We don't really eat these things at home and I really appreciate being able to try these dishes in school," she said.
Overall, the Hispanic Heritage Month deserves a Michelene Star noting how successful it turned out to be: students enjoyed food they had never tried while also learning about a diverse range of cultures.