Basketball Season Kicks Off with Raider Madness
Last Wednesday, the girls and boys basketball teams kicked off their season with Raider Madness, an event at the gym where fans got to meet the teams for this season. All basketball teams participated, including those from the lower and middle schools. 
The Blue Dungeon was decked out with a giant dome surrounded by blue and white balloons. After Director of Basketball Operations Ray Allen introduced each player, both the girls and boys varsity teams played a 5-on-5 scrimmage to the sound of cheering fans. Loud music filled the air while fans interacted with players in games like "musical chairs" and "knockout." Prizes were awarded to the winners of all games.  
Raider Madness was a way to kick off the season and an opportunity for the school community to be back together, cheering each other on.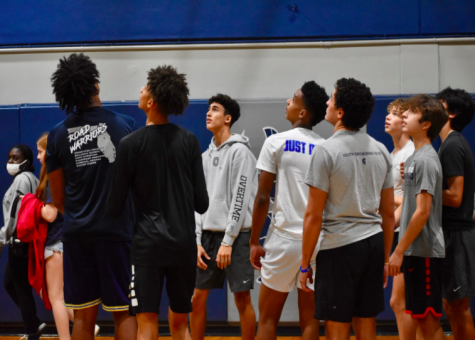 Those who attended Raider Madness enjoyed the atmosphere.
"It was a fun time and just the energy being back in the gym felt great. We really need the fans' support this season," senior Riana Doctor said.
The boys and girls team look to start the season off on a good note. The girls home opener is Nov. 19 vs Mater Lakes, and the boys will take on Pinecrest here at home on December 7.
"I truly can't wait for such an incredible season, and with Riana and Madi and the rest of the team healthy, we are going to turn heads this season," said girls head coach April Traylor.
Raider Madness also helped the boys team form a positive outlook and prepare their fans for the upcoming season.
"I loved the feeling of being in a good environment, and one thing the boys and I are going to do is ball," sophomore Keenan Lawrence said.