Pep Rallies Return for Homecoming Week
As a way to celebrate Homecoming week, the student body congregated in the gym on Wednesday to bring back its tradition of pep rallies. It was the first time students had filled the gym after an entire year without any large school gatherings. 
During the pep rally, the student council of each grade level was responsible for creating a video skit idea to then display for the whole school. For their own skit, the teachers decided to take it a step further and surprise students by dressing up as superheroes.
"I thought the prep rally was really good and entertaining for everybody watching. I was glad to be a part of it, directing the teacher's skit," said ARP teacher Kenneth Delisi. "I've had that [superheroes] idea for a while now. I do improv professionally and I had an idea of bringing the superheroes back out of retirement."
The pep rally was a way to show school spirit and come together as a school.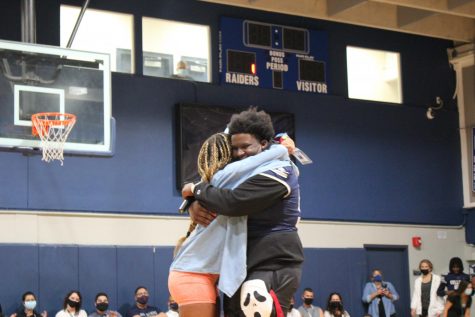 "I liked how [the pep rally] brought our school together and it's just good to have school spirit again," sophomore Lorenzo Jaime said.
One of the most popular skits was the junior skit, which made fun of inexperienced drivers crashing in the parking lot.
The pep rally was also a chance for students to ask each other out for the Homecoming Dance, happening this Saturday at 8 pm. Some students took the microphone to ask their Homecoming dates as a special surprise.
"I think that the Homecoming proposals were really cute, and I believe that you need to have a lot of courage to ask someone out in front of the whole school," junior Sofia Gonzalez said.
Gonzalez also believes that the Pep Rally was a great way to reunite everyone together.
"It was a fun time to just get together and be together as a school and especially as a grade, I believe that it is very important for us to have Pep Rallies," said Gonzalez. "[Pep rallies] bring the school together as a whole."