"Food for Thought" Features Wildlife Expert Ron Magill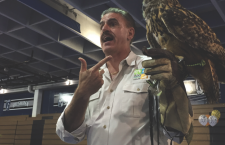 On Thursday Apr. 7, the Parent's Association hosted their annual "Food for Thought" event, beginning at 6:30 pm in the Prep gymnasium, featuring Miami-Dade Zoological Park and Gardens communications director, Ron Magill.
As students, parents, and faculty indulged in food catered by Shorty's Barbecue and Nothing Bundt Cakes bakery, Ron Magill, an American wildlife expert and photographer, spoke about a wide range of topics, each with a reference to animals he has worked with.
"The idea behind 'Food or Thought'  is to invite the school community together and give them something they'll enjoy and talk about later," said co-chair of the Parent Connection Committee, Catherine Kirsner.
Primarily offering advice to the high school student crowd, Magill discussed how dedicating his time in the past to something he is passionate about helped shape his career today. Though it may seem like a cliché phrase, Magill emphasized the importance of three simple words: "follow your dreams."
"If there's something you love to do, stick to it and find a job that doesn't feel like real work at all," said Magill.
At the end of his presentation, Magill brought out an owl that sat atop his forearm as he roamed the aisles and answered questions about the bird's species. Afterwards, he autographed books, took pictures, and spoke briefly with audience members.
"It was an amazing experience to meet such a prominent member of our community and have the opportunity to hear about his life changing experiences with animals around the world," said freshman Isabel Meira.
Ron Magill has won three Emmy Awards for his work on nature documentaries: Dreams of Alaska, The Amazon & Beyond, and Dreams of the Rain Forest. He regularly appears on local South Florida television programs and national networks.