Witness the Silliness of Noises Off in the Final Days of its Limited Run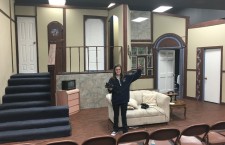 With only two performances remaining in the drama department's Noises Off production, tickets are maybe just as scarce as tickets to Broadway's Hamilton. The growth of the department as whole allowed for teacher and director Jessica Fox to put this bold and ambitious play on the Second Story Theater stage.
Noises Off is a play within a play and showcases the stress, difficulty, and excitement that goes into putting on a show; as well as the contrasting onstage and off-stage relationships developed by cast and crew.
"I think audiences will receive insight about the adversity that we have to overcome as actors, and the time and effort it takes to entertain a live audience," said senior Jaclyn Soria, who plays Mrs.Clackett/Dotty.
For seniors Zachary Graulich, Michelle Piña, and Jaclyn Soria, this will be their final high school play, and they look forward to the rest of their performance run. They share the stage with juniors Josef Soler and Mark Royero; sophomores Isabella Herrera and Vale Diaz; and three up-and-coming freshmen actors, Jakob Telepman, Sam Rugeros, and Alexa Rodriguez.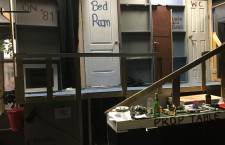 "I am so proud of the ensemble; they have been a joy to work with, and are a very dedicated, talented group who get along great and work hard," said Fox.
The production is humorous and fun, and, if you scored a ticket for today or Saturday's performance, consider yourself lucky. The show starts at 7:00pm in the Second Story Theater.