NAHS Creates Coloring Books for Art Care for Kids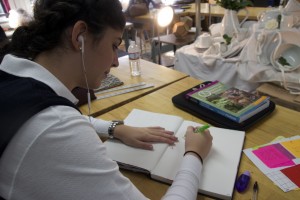 Working alongside the organization Art Care for Kids, the National Art Honor Society donates art supplies to child patients in hospitals and schools lacking funds for art classes.
"After learning what their mission was and what they work towards, I decided to get involved," said art teacher and head of NAHS, Mary Munn.
Along with art supplies, the club also contributes to the charity organization by having each student in the honor society design canvases for the hospitalized children to paint and decorate.  The students also create coloring books and prepare gift bags containing art supplies.
In January, the art department will hold a fundraiser in which all students, not only in art programs, can donate used or new art supplies. At the end of the year art supplies are gathered from students and are re-purposed for the students of schools who cannot afford new supplies.
Old sketchbooks are recycled and used pages are removed to create new ones for others to use. NAHS members recycle and paint pencil cases and pouches for the charity.
"We make sure everything we have that is used finds a good home," said Munn.
Although NAHS students work to create gifts for young hospital patients, they do not have an opportunity meet them. Hospitals are very selective with who can volunteer but it is something the club would like to participate in.
"It is a goal for the year to go see the patients in person but their situation makes it difficult," said NAHS president Nicole Zedan.
NAHS activities vary from year to year.  Besides the Art Care for Kids charity, the club donates its time and talents to other school events such as creating the banner for the Swim-a-Thon and painting sets for the drama play.