Student-Athletes Sign National Letters of Intent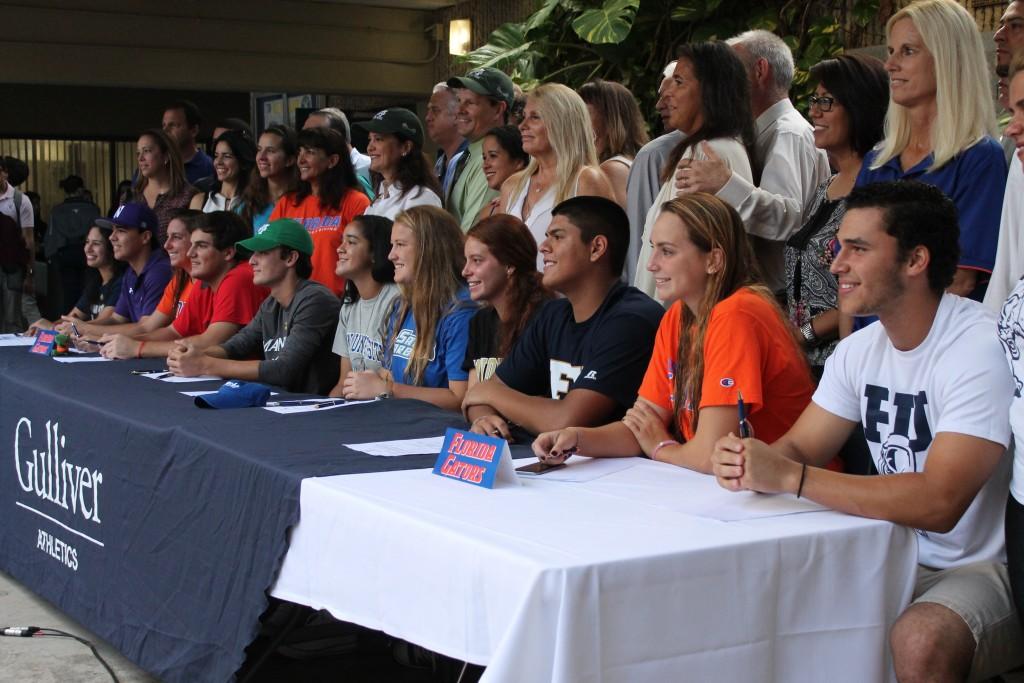 On Friday Nov. 13, students gathered around the atrium to witness 11 senior athletes sign their National Letter of Intent to a range of universities across the country. The National Letter of Intent is the university's official, binding scholarship offer to a student-athlete. By signing the letter, he or she is committed to attend the institution for one academic school year.
The teams represented were: baseball, swimming, softball, lacrosse, and water polo. The signing ceremony was the first of three that will take place this year.
Congratulations to these athletes:
Briana Bahadue (Softball)—Florida International University
Alex Erro (Baseball)—Northwestern University
Kelly Fertel (Swimming)—University of Florida
Pedro Pages (Baseball)—Florida Atlantic University
Trevor Pelletier (Lacrosse)—Manhattan College
Jessica Rivera (Softball)—Lynn University
Samantha Rosenberg (Water polo)—University of California Santa Barbara
Namilla Sanchez (Swimming)—Vanderbilt University
Gio Soto (Baseball)—Florida International University
Nicole Urquidi (Swimming)—University of Florida
Javier Valdes (Baseball)—Florida International University