Dolphins Make Distinctive Changes in Firing Head Coach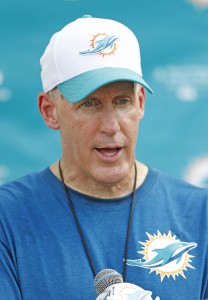 To the delight of fans, the Miami Dolphins announced on Monday that head coach Joe Philbin had been fired, after a disappointing 1-3 start to the season.
Such a poor start is discouraging in itself; and the fact that there were higher expectations surrounding the team makes it much worse. It was evident to fans and analysts that the main problem was not a lack of talent for the Dolphins, meaning that the true culprit for the underachieving team is the coaching. By firing him and changing the lackluster coaching in the team, the organization has made a step in the right direction in improving the performance of the team.
Mediocrity has been the norm for the Dolphins; a once proud franchise, under Philbin. Although they came close to making the playoffs in both 2013 and 2014, they ended up 8-8 in both seasons. Throughout the four seasons with Phiblin as head coach, the Dolphins won just 46.2% of their games.
"I hope the firing starts a new era for the Dolphins full of success," said Dolphins fan and junior Charlie Harris.
With talent of the likes of quarterback Ryan Tannehill, running back Lamar Miller, and defensive studs Ndamukong Suh and Cameron Wake, losing to teams like the Jaguars and the Jets is disconcerting. The team was not the slightest bit competitive in their blowout losses to divisional rivals, the New York Jets and the Buffalo Bills. Even with the one win the team has thus far against the Redskins, the Dolphins very well could have lost that game, as they were outperformed and outcoached, but had a few lucky bounces go their way.
"Philbin showed flashes of greatness in his time in Miami, but he never seemed to get the job done, and that is not acceptable in the NFL," said junior Tejas Srivatsav.
Dolphins Tight End Coach, Dan Campbell has been named the team's interim coach until they find a replacement.