Roundtable Interview with the Cast of Maze Runner: The Scorch Trials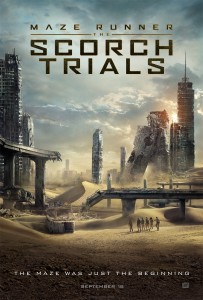 Fans flocked to theaters for the release of Maze Runner: The Scorch Trials, which grossed over $30 million in its opening weekend. The Raider Voice had an opportunity to sit down with cast members Dylan O'Brien, Kaya Scodelario, Giancarlo Esposito, and Rosa Salazar prior to the premiere.
Having played an antagonist in many prior films, and do you find yourself to prefer villainous or heroic roles?
Esposito: I love every role that I play equally if I can put my heart and soul into it. I was anxious to see if I could pull off a character other than a villain, having done it only a few times in the last few years. Once in a while I like being the nice guy who sweeps in and saves the day. I just wanted to make Jorge into a likable guy, but one who you're not completely unafraid of, mostly because everything in this film is kind of earned—trust is earned, loyalty is earned, and relationships are earned. He's just a straightforward guy who knows there's a better world out there that he wants to be a part of helping find.Bro
Many young adult franchises are splitting the last film in to two parts, like The Hunger Games and Divergent. The Maze Runner is going its own way and is not doing this. What is your opinion of that?
O'Brien: I love it, because I hate the idea of trying to milk the storyline it for all its worth. Our director, Wes [Ball], will do all three of the films and it'll be a straight up, old school, Sci-Fi trilogy, which is what we all want to do.
Salazar: The biggest travesty to fans is creating a structure that is definitely not in the book and having to add even more to substantiate splitting one book into two parts.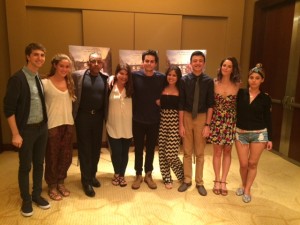 How does it feel to watch the completed product of your work?
O'Brien: Oh, it's so great.
Scodelario: I find it terrifying. I hate it; it makes me feel sick. When I work, its something that I lose a bit of my soul to. I sacrifice a bit of myself to that character, and I love it, but then I am so protective of it that I'm terrified of anyone else seeing it or judging it or misunderstanding it. I get this insane feeling of wanting to complete a job and no one ever watching it, which makes no sense because the reason we do these movies is so that people enjoy them, but for some reason in my mind it petrifies me.
What do you think are some strengths and weaknesses that your characters posses in the film?
Salazar: My character is very good at compartmentalizing. First of all, she was just thrown out into the Scorch, left to fend for herself until she met Jorge. You have to be pretty clever and pretty savvy to do that. I think her overall capacity for change is her biggest strength.
O'Brien: I think Thomas is strong and smart and courageous and just believes so hard. He provides the hope and takes pride in that, but I think that can also be what his weakness is. He can get very narrow-minded and about what he believes and strong headed about his plan of action. I know it's hard to call it a weakness, but it's just a human flaw, and that's what I love about him so much. He is flawed and he is human, he feels fear and he feels doubt. That's what makes the movie so compelling.
Scodelario: I think Teresa is very brave, very strong, and very caring. She arrives in the Glade and she's there for less than a day before she trusts this group of people. She helps them survive and she helps them escape. She's on this journey with them so quickly and that's something that really struck me as something brave about her. Continuing on in this movie, you see that. But you also see the more vulnerable side to her. I think she's more afraid, but has reasoning for that after experiencing such devastation and loss. Then again, it's hard to say that's a weakness because ultimately it can help her in the future.
Esposito: One of Jorge's strengths is that he is a warrior and a rebel, which is part of the story that I can really relate to. He decides he is going to do it his own way, a way that has kept his people safe for a period of time. I find that another strength of his is hope for finding that republic, the Right Arm, where people can live together and have respect and compassion for one another. One of his possible weaknesses is that he's headstrong and skeptical. In the world of the Scorch, you have to be smart and skepticism is probably not a bad thing. He has probably lost at love, so he doesn't trust, and I think that the young Gladers give him the opportunity to develop trust again—because in this ruthless, cut-throat world, who can you really trust? All of these analogies and mythologies are bubbling under the surface of what seems to be a Sci-Fi action movie, but it really is steeped in relationship, family, and support.
With Teresa really going against her loved ones, and separating herself from the rest of the Gladers throughout the movie, was it hard for you on set? Did you have to separate yourself from the other cast members?
Scodelario: To be honest with you, any other job I would've probably distanced myself a little more. I would've stayed separate, I would've not hung out as much. But I cant with these guys, because these are my best friends and this job is what keeps me going. Everyday I know I get to go to work with my best friends. I went into the film thinking I should do that, but right away I knew I wasn't going to. We're just so lucky to have a job like this. One that is social and wonderful and that you get to meet so many cool and interesting people. It would've been such a waste to separate myself from that.
As newcomers, did you guys have any sort of initiation or hazing going into the production?
Salazar: I think the only thing was learning how to play Mario Cart. If you've never played Wii, it's awful and you're terrible until you get the hang of it. Just the embarrassment of losing every race was enough torture.
Were you nervous to join The Maze Runner franchise, knowing how much time it would take up?
Scodelario: Yes, I was terrified. I read a quote from Keira Knightly about the Pirates [of the Caribbean] movies that took five years of her life and she really regretted it. There was a moment where I didn't even know what I wanted to do tomorrow, so I couldn't imagine the next few years. The thought of knowing that really freaked me out.
Salazar: Absolutely not. Knowing what I was going to do would give me stability.
Did you perform your own stunts and can you tell me a little bit about the preparation for that?
O'Brien: We just jogged as a group everyday for the first couple of weeks and did some stuff in the gym to get our legs in shape. With the repetition of the running scenes, we needed to condition our bodies to survive the day. At the same time, though, we're not super athletes, we're kids, which is very much the spirit of the book. So we didn't have to go through this crazy training to do that. The stunts were nothing major or insane either, but it worked better that we were all game to do as many as we could.