Food for Thought with Dave Barry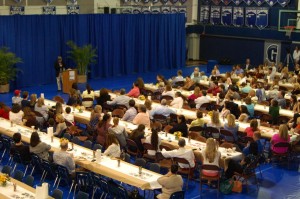 On Apr. 9, the Prep Parents' Association hosted "Food for Thought" featuring Pulitzer-prize winning humor columnist and author, Dave Barry.
Beginning at 6:30 p.m. in the gymnasium; students, parents, and teachers served themselves dinner and desserts catered by Shorty's Barbeque and Nothing Bundt Cakes bakery. Once the crowd took their seats in anticipation, Head of Schools Frank Steel introduced Dave Barry.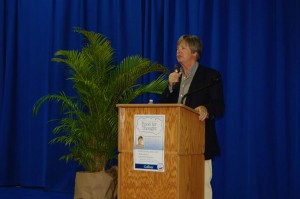 "I was nervous when I arrived because I expected only an adult audience and didn't think the students would understand my jokes," said Barry, "but everyone seemed to enjoy themselves and share a good laugh."
Barry discussed a wide range of themes, including Miami culture, the obstacles of parenting, and personal experiences. Each subject commenced with a witty life lesson, followed by an uproar of laughter.
"I can't remember the last time I had so much fun at a school-sponsored event," said sophomore Morgan Greaton, "the speaker was hilarious and the food was delicious."
Barry wrapped up his performance by taking open-topic questions from audience members. After offering his final suggestion, Barry autographed books, took pictures, and spoke briefly with fans.
"If you were already a Dave Barry fan, like me, he exceeded expectations," said Activities Director Danielle Bowen, "if not, you certainly were by the end of the night."
Dave Barry is a humor columnist for the Miami Herald and author of dozens of popular novels, including Insane City and the Peter and the Starcatchers trilogy, which he co-wrote with Ridley Pearson.