Interact Club Hosts 8th Annual Fashion Show Benefit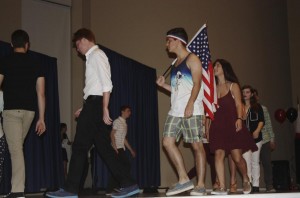 [wds id="3″]
On Mar. 12 at the Miller Drive Campus auditorium, the Interact Club hosted its 8th Annual Fashion Show Benefit.
Interact's student-run fashion show is the club's most profitable charity event. Student members volunteer their time to work backstage or model local fashion brands down the runway. The event raised over $3,000 from sponsorships, entrance fees, snack sales, and donated raffle prize tickets. All funds were divided amongst two charitable organizations: Easter Seals Alzheimer's Day Care Center and Chapman Partnership.
"The entire club put so much time into planning the show," said Interact president Remi Beek, "we had a great turn out and I'm extremely relieved that it went so smoothly."
Interact's mission is as simple as its name – to provide high school students with opportunities to interact with their community, through monthly visits to rehabilitation homes and homeless assistance centers, in addition to countless donation collection and fund raising projects.
"I love being a part of a club that focuses on the well being of our immediate community," said senior Corina Scheuren.
Aside from showcasing clothing trends, the fashion show featured a solo performance by Sundancer Dance Team captain Morgan Furnari, and Kuamini Apparel T-shirt sales by sophomore entrepreneur Robert Burns. Following raffle prize drawings, two Miami Heat tickets ultimately sold for $250 in a thrilling live auction.
"It was awesome to see my peers so comfortable up on stage," said sophomore Olivia Hassan, "it would have taken a lot to convince me to model."