Oceanography Club Competes at Florida Regional Manatee Bowl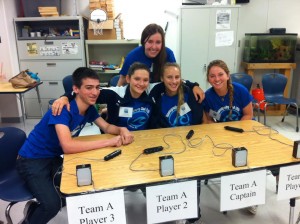 On Saturday Feb. 28, the Oceanography Club participated at the Florida Manatee Bowl hosted by the FAU Harbor Branch Oceanographic Institute in Ft. Pierce.
The Manatee Bowl is a sector of the National Ocean Sciences Bowl (NOSB), a nationally recognized high school academic competition that tests students' knowledge in marine studies. Each February, regional competitions are held throughout the country. The winning teams advance to the NOSB Finals Competition in April.
The Oceanography Club competed against local schools with programs in marine sciences, including Maritime and Science Technology (MAST) Academy and Miami Palmetto Senior High. They won the first of three morning rounds, but did not advance to the afternoon final session.
"I'm very proud of my team's hard work and dedication," said captain Taylor Hill, "We may not have won the entire competition but we dominated in a round against a high school that specializes in oceanographic studies."
Five student members attended the event: seniors Taylor Hill and Camila Mirow, juniors Carolina Gomez and Tiffany Lusic, and sophomore Alejandro Muñoz. Club sponsors, environmental teacher Mrs. Kristen Szpak and biology teacher Mr. Kirk Nieveen, coached the five contestants throughout the three competitions.
"Going to NOSB was a great experience," said competitor Tiffany Lusic, "It challenged me academically and I look forward to attending again next year."
Congratulations to the Oceanography Club!