HISA Sponsors School-Wide Blood Drive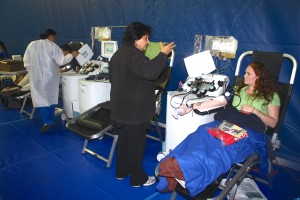 During the week leading up to Valentine's Day, students offered to share more than just their hearts with others.
On Monday Feb. 8th, the Health Interested Students of America (HISA) Club sponsored a school-wide blood drive held in the Prep gymnasium. Dozens of teachers and students, 16 years or older and weighing at least 110 lbs., had the opportunity to donate roughly one pint of their blood to benefit the "One Blood" Foundation.
"I had never donated blood before today," said sophomore Katherine Cohen, "I'm nervous before getting a shot, so you could have imagined how I felt prior to this."
The drive collected approximately 30 pints of blood in total, all transferred to a lab for red and white blood cell separation before being distributing to various children's hospitals in Florida. One in three people will need a blood transfusion in their lifetime, so these donations are crucial for many future blood transfusions.
Five students with certain blood types donated platelets and plasmas, a nearly hour long procedure. One of these unique donors included sophomore Diego Rodriguez.
"Even though I was attached to the machine for 2 hours, it was worth it because I know I did something to help another in need," said Rodriguez.
At the end of the donating process, pizza and drinks were available, along with a 'goody'-bag that contained a T-shirt and brochure with facts about donating blood.
"It's unpredictable how donors will respond to giving blood. Most tolerate it normally, but others may feel nauseous and weak. In more severe cases, some lose consciousness and may feel sick," said a "One Blood" nurse.
HISA hosts the biannual blood drive in the fall and spring and is one of the club's most important activities of the year.