Miss Colombia Crowned Miss Universe at FIU Arena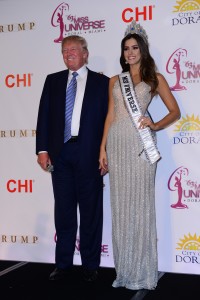 On Sunday Jan. 25th, remarkable women from over 80 countries around world took the FIU Arena stage to compete at the 63rd Annual Miss Universe pageant.
As spotlights illuminated each gleaming gown, the eighty-eight participants individually introduced themselves and the country they represented. Just minutes into the pageant, the previously selected top-18 contestants were announced to advance on to the swimsuit category.
"It was inspiring to see such beautiful women with so much pride for their countries," said junior Kelly Fertel who was present at the event, "I feel privileged to have been given the opportunity to attend."
Following several other heartbreaking eliminations and additional competitions, judges narrowed the finalists to the top three for another Q&A portion. Ultimately, 22-year-old Miss Colombia Paulina Vega was crowned the 2015 Miss Universe. Miss USA Nia Sanchez finished runner-up and Miss Ukraine Diana Harkusha took third place.
"As a Colombian, I was proud of Paulina Vega for representing my country in such a positive way," said senior Daniela Benavides.
In an interview with ABC News prior to the event, an optimistic Vega discussed her thoughts going into the competition.
"It would be a dream come true to represent the women of today," said Vega. "A woman that not only cares about being beautiful and glamorous, but also cares about being a professional, intelligent, hard-working person."
The pageant was aired on NBC at 8:00 pm (ET) and featured performances from Nick Jonas, Gavin Degraw, and Prince Royce.