Seattle Seahawks to Face the New England Patriots at SuperBowl XLIV after a Historic Comeback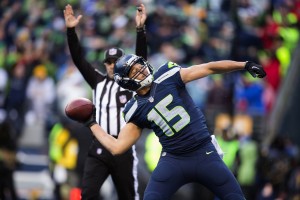 Fifty-seven minutes into the hour-long NFC Championship game, the Green Bay Packers seemed as if they had secured a spot for Super Bowl XLIX.  Crowds began to clear the stands at the CenturyLink Field as the Seattle Seahawks made one of the biggest — and most unexpected — comebacks in NFL history.
At the start of the final quarter, the Packers led the game with a score of 16-7.  After taking control of the ball at their own 31-yard line, the Seahawks strategically managed to occupy Packer territory with only 3 minutes remaining.  This shocking repossession led to the first scoring run, followed by another sudden touchdown to drive the game into overtime.
"Throughout the 4th quarter, I was confident that the Packers would maintain a lead over the Seahawks," said junior Maximiliano Dacharry, "once they entered overtime, I wasn't too sure anymore.  At that point it was either team's victory."
The Seahawks managed a quick touchdown to win the game during the 10-minute overtime period.
"The will and the drive of these men is unbelievable," said an emotional Seahawk quarterback Russell Wilson in an ESPN interview following their win.  "We always find a way to finish."
As the Seahawks received their championship title, anxious players and fans anticipated the kickoff in Foxborough, Massachusetts at the Gillete Stadium.  The New England Patriots and Indianapolis Colts prepared to clash for the final SuperBowl spot at the AFC Championships. The Patriots defeated the Colts 45-7.
The Seahawks are the first defending champions to make it to the Super Bowl in a decade.  They will take on the New England Patriots at Super Bowl XLIV on Sunday, Feb. 1 at the University of Phoenix Stadium in Glendale, Arizona.  The game will air on NBC at 6:30 pm.