The Miami Marine Stadium Receives a Generous Grant towards Its Restoration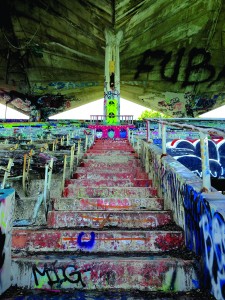 A cherished South Florida landmark, the rundown Miami Marine Stadium will undergo renovations thanks to donations by The Getty Foundation.
Just over the Rickenbacker Causeway, The Marine Stadium on Virginia Key is an open-air stage overlooking Biscayne Bay. Since Hurricane Andrew devastated South Florida in 1992, the stadium has been closed due to safety and structural stability concerns.
"I remember spending the day on the boat then cruising over to the Stadium to catch a free Jimmy Buffet concert," said Connie Ernsberger, Director of Guidance and College Counseling.
The Getty Foundation, a program established to preserve the visual arts, has announced "Keeping it Modern," a mission to conserve 20th-century architecture around the globe. It has donated $180,000 to the nonprofit Friends of Miami Marine Stadium, a local organization raising the necessary funds to restore and reopen the stadium to the public.
"It'd be pretty cool to pull up on your boat and listen to a concert without all of the crowds," said sophomore Alejandro Thermotis.
The Marine Stadium is one of several ongoing Getty projects, including the restoration of the Sydney Opera House in Australia and Centennial Hall in Poland.
"If you're wondering whether I have a favorite building among the Keeping It Modern grants, I'll say this—each building speaks to me in its own way, and I plan to take a closer look at some of these projects here on The Getty Iris in the future," said Senior Program Officer Antoine Wilmering in a recent Getty blog.
Nearing their ultimate goal of $30 million, Miami natives anticipate news of a possible reopening. In June, Latin singer Gloria Estefan donated $500,000 to the stadium's restoration campaign in an effort to further its longstanding musical tradition.