Girls' swim team takes Class 2A State title, boys finish top-5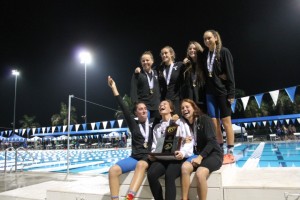 On Nov. 14, the girls' Varsity Swim Team made history by winning the school's first ever Class 2A Swimming and Diving State Championship.
Of the 43 qualified teams, six scoring members of the girls' team swept both the preliminary and final sessions; defeating Class 2A State Runner-up Suncoast High School by 55-points.
"I am very proud of the way the girls focused in order to reach their goal of winning a state championship," said Varsity Head Coach Jeff Poppell.
Individual podium finishers included junior Kelly Fertel, 1st in the 200-yard individual medley and 2nd in the 100-yard breaststroke, as well as junior Nicole Urquidi, 3rd in the 200-yard freestyle. Other top-5 finalists included sophomore Brooke Ellis, freshman Alicia Mancilla, and junior Namilla "Nemo" Sanchez.
Ultimately, the three relays played the most influential role in the team's overall success. The swimmers took 1st in the 4×100-yard freestyle relay, 3rd in the 4×50-freestyle relay, and 4th in the 4×50-medley relay, breaking a school record set in 2006 by 0.01 of a second.
"We've been trying to break the medley relay record all season. It's an indescribable feeling to know I'm leaving my team with a legacy," said senior captain Corina Scheuren.
Consisting of predominantly underclassmen and one senior, the young girls' team is looking to return next year with more experience to sustain their championship title.
"We are expecting some great additions to our team next year. Although we had an incredible season, I'm excited to see what we will accomplish in the years ahead," said Sanchez.
The boys' team also improved upon their results from last year. While the team did not return with the state title, they were successful in both their individual and team performances. Finishing 5th out of 52 competitive teams, the boys were merely 20 points from the top three teams.
"I think many underestimated the boys' team towards the beginning of the season. Placing 5th at States was an enormous accomplishment," said senior captain Ricardo Hermida.
The team was led by freshman Miguel Cancel, who finished 2nd in the 500-yard freestyle. Other top swimmers include junior Sean Arrington, freshman Trahern Gribble, senior Ricardo Hermida, and sophomore Pablo Luchau.
"I don't know about [the boys] winning it all next year, as the teams ahead of us are very strong, but I do think we have the ability to move further up in the team rankings to try to compete with the top-3 teams," said Poppell.
Future swim seasons look promising for both the girls and boys as they work to become a stronger team and prepare for years ahead.