Amplified Miami Gives Back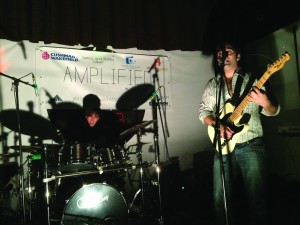 On Oct. 25, Amplified Miami hosted a free "Night of Music, Talent and Entertainment" at the Open Stage Club on Miracle Mile, from 6 to 8 p.m.
The charity benefit concert featured performances from various upcoming bands including the Robby Hunter Band, Cannibal Kids, Thanks, and Purple Sun.
Amplified Miami is an organization, which began as a small school club, devoted to showcasing talented young musicians in the Miami Area.  Amplified Miami hosts annual "open mic" nights to raise money for the Little Kids Rock Foundation, a program whose mission is to provide underprivileged schoolchildren access to free music classes and new instruments.
An acoustic guitar was passed around the audience with the goal to collect donations for the Little Kids Rock Foundation.  Donations from the event as well as sponsors came close to $3,000. This was enough to fill a low-income school classroom with brand new instruments.
"The guitar was a great way to get people to donate. It felt as though you were directly contributing in the purchase of the instruments," said sophomore Britney Escobedo who attended the "open mic" night.
Amplified co-founders and "Thanks" band members, seniors Brett Gilbert and Daniel Garcia, were particularly satisfied with the outcome of the event.
"We started this organization with our love for spreading music and servicing our community. We were extremely happy to see so many people that night supporting an important cause," said Gilbert.
By Brooke Ellis