Swim teams advance to regionals after a great season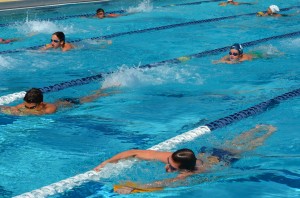 The Girls Varsity Swimming Team had a successful season placing fifth in the Woodson Invitational on Oct. 18 and beating teams throughout the season including Archbishop McCarthy, Archimedean, St. Brendan, Keys Gate, Carrollton, and Miami Country Day. The top swimmers include senior Corina Scheuren, junior Nicole Urquidi, junior Kelly Fertel, junior Namilla Sanchez, sophomore Brooke Ellis, freshman Alicia Mancilla, and freshman Nicole Rigueira. Sanchez explained that as a team they have had two goals this season and that was to qualify and perform successfully at the State Championship. She also stated that coaches Jeff Poppell, Chris George, and Jamie Marks have been supportive throughout the season and as the girls prepare for their state meet.
The Boys Varsity Swim Team had an equally successful season. The boys placed 8th out of 33 teams at the FSPA Developmental Meet, 5th at the Woodson Invitational, while also acquiring wins against several schools including Monsignor Pace, Keys Gate, and Miami Country Day. Top returning swimmers include senior Ricky Hermida, junior Sean Arrington, junior Brian Gerstein, and sophomore Pablo Luchau. A few new swimmers have also performed successfully throughout the season including freshman Miguel Cancel and Trahern Gribble.